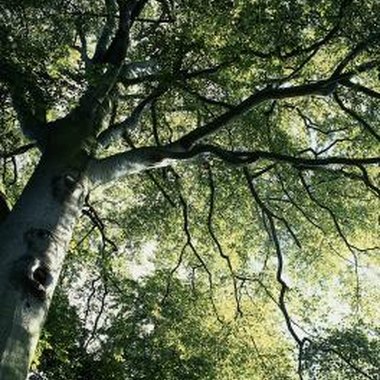 The Canadian province of Ontario is vast, with plenty of untouched forest and wildlife to explore. There are also many places in the province that offer tours of the impressive forest canopy that stretches over most of the region. Some tours are simply walking tours. Others include detailed eco-tours and still others integrate a zip-line for the more adventurous.
Canopy Tours
Canopy tours in Ontario tend to be two to four hours long and often include other outdoor activities such as hiking and canoeing. A guide takes the group on a pre-determined route that includes the forest floor as well as the narrow boardwalk that leads into the canopy. Haliburton Woods, for example, boasts more than half a kilometer of canopy level boardwalk and is 10 to 20 meters high.
Zip Lines
Many canopy tours are integrated with zip lines for the adventure seeker. These tours also include a guide who explains the historical and environmental aspects along your tour. Why walk when you can rappel or soar through the forest canopy? The Long Point Bay World Biosphere and Turkey Point Marsh (lpfun.ca/zipline/zipline-canopy-tour.html) is equipped with eight zip lines, two suspension skybridges, 14 platforms and a 40-foot rappel for all your thrill seeking needs.
Eco-Adventure Tours
Canopy tours almost always brand themselves as "eco". In fact they are part of a movement to bring eco-tourism and environmental awareness to Ontario. Tours, zip lines and hikes are integrated and introduced into the surrounding environment with as little disruption to the natural order as possible. Other activities such as boating and hiking are typically non-motorized so as not to disrupt the natural surroundings.
Safety and Medical Considerations
Canopy tours can sometimes be long and strenuous. Hikers must wear proper gear and bring water and a small snack. It is recommended that you dress in layers to be prepared for any fluctuations in weather. Most companies ask those with heart or respiratory issues to take special precautions. Height, weight and age restrictions also apply.
Photo Credits
Hemera Technologies/Photos.com/Getty Images