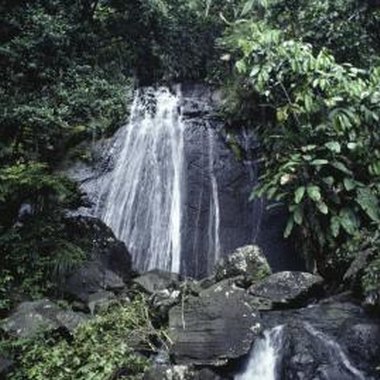 Canopy tours, also known as zip lining, are a form of adventure tourism where participants glide on a cable from treetop to treetop, typically on a course that travels from the top of a mountain to the bottom, while stopping at various designated platforms to admire scenery and lookouts along the descent. This type of eco-tourism is typically located in mountainous areas of the world. One such location where it's offered is Puerto Rico, a country that features mountainous terrain, rainforests and coastal views.
Tour Companies
There are two main canopy tour companies in Puerto Rico: Yunke Zipline Adventure (yunkezipline.wordpress.com) and La Marquesa Canopy Tour (canopytourpr.com). La Marquesa Canopy Tours started in Costa Rica and expanded its business to Puerto Rico. According to the company website, it's the original canopy tour in Puerto Rico. Yunke Zipline Adventure is another company offering canopy tours in Puerto Rico, taking tourists up to 70 feet above ground.
Locations
La Marquesa Canopy Tours takes guests into a private area of tropical forests in the La Marquesa Forest Reserve in Guaynabo, which is located about 30 minutes from San Juan. Conversely, Yunke Zipline Adventures offers its tours in the Luquillo rainforest, offering its guest views of the Caribbean National Forest and the El Yunque and Este peaks along the descent.
Tour Time/Pricing
The La Marquesa Canopy tour lasts for about two hours and takes guests to eight traverses and 14 platforms. The tour costs $155 per person and includes transportation from guest hotels. The Yunke Zipline Adventure tour consists of seven zip lines and three rope descents, totaling more than 2,100 feet of zip line course. It takes three to four hours to complete the zip line course and costs $99 per guest, at the time of publication.
Other Details
Although tour companies have taken measures to increase safety on such tours, there's always the risk of injury. However, the zip lines are designed and built to exceed professional building standards. Zip line courses and equipment are also inspected daily. Additionally, each canopy tour group is accompanied by professionally trained guides. Guests are typically briefed on proper safety precautions prior to beginning the adventure as well.
Photo Credits
DC Productions/Photodisc/Getty Images