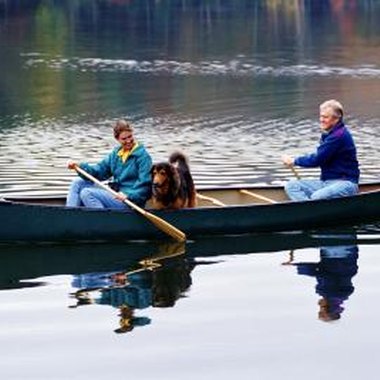 The Rifle River starts in northeastern Ogemaw County, Michigan, and runs through Arenac County before joining Lake Huron. Along the way, there are many scenic areas to canoe through to experience the beauty of that part of Michigan. The trumpeter swan, the largest bird in Michigan, is plentiful along the river, and if you're near Grebe Lake in the spring, you will see loons. The most common wildflowers are the lady's slipper, cardinal flower and the Indian paintbrush. Several canoe-rental businesses offer riverfront camping facilities and a variety of amenities to meet every budget.
Rifle River Campground & Canoe Livery
Located in Sterling, Rifle River Campground & Canoe Livery (riflerivercampground.com) has 80 campsites, 26 of which front directly on the river. You can rent canoes, kayaks and inner tubes to take onto the river. While you're at the campground, you'll have access to a camp store with basic groceries and supplies, as well as a community bath facility with 10 private bathrooms and eight private showers.
River View Campground & Canoe Livery
Also located in Sterling, River View Campground (riverviewcampground.com) consists of more than 120 acres, including a mile right along the riverfront where you can camp. You can bring in an RV or a tent; there are also cabins on site that you can rent. Canoes are available in a minimum of two-hour increments, and the company has both composite and aluminum boats.
Outdoor Adventures
Outdoor Adventures (outdooradventuresinc.com) has five different camping resorts in Michigan, including one in Sterling on the Rifle River. With 161 campsites and rental units that can accommodate as many as eight people, the Rifle River resort is open from April 1 through the end of October. You can go canoeing on the river as well; Outdoor Adventures will bus you upstream to its canoe staging area, and you can ride the breathtaking river back down to the canoe drop-off near your camp.
White's Canoe Livery
White's Canoe Livery (whitescanoe.com) is the largest camping and paddle-sport operation in Michigan. Offering 17-foot canoes, White's has three campgrounds and six landings right on the river to give you several different options as to where to stay.
Photo Credits
Thinkstock Images/Comstock/Getty Images