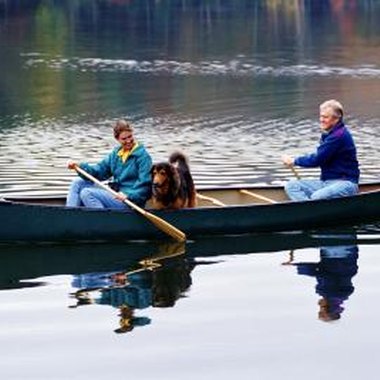 The southwest corner of Michigan's lower peninsula is a spiderweb of rivers that wind their way through forests and rolling hills, many working their way toward the shore of Lake Michigan. These rivers provide a playground for canoeists and kayakers, and nearly every town in southwest Michigan is not far from the starting point of a great canoe trip.
St. Joseph River
Part of a route between the Great Lakes and the Gulf of Mexico discovered by the French explorer LaSalle in the 17th century, the St. Joseph River loops through southwest Michigan and northern Indiana between Hillsdale and St. Joseph, Michigan, where it empties into Lake Michigan. There is good canoeing in locations along the length of the river, from remote forested stretches to urban surroundings, but one of the most picturesque trips is near St. Joseph, where the river makes its final run to the big lake. Harbor Shores Paddlesports (no website; 200 Upton Drive, St. Joseph; 269-985-3747) offers rentals, lessons and guided tours of this section of the river.
Dowagiac River
The Dowagiac River rises in Van Buren County, but flows primarily through Cass and Berrien Counties, where it joins the St. Joseph River near Niles. It is a modest stream with a relaxed current ideal for canoeists and kayakers with little experience. The river makes its way through hardwood forests and is a favorite gathering place for local wildlife. The stream offers excellent fishing, as well. Doe-Wah-Jack's Canoe Rental (no website; 52963 M51 N, Dowagiac; 269-782-7410) offers rentals and support for a variety of trips on the river.
Kalamazoo River
The Kalamazoo River flows about 130 miles from the intersection of its north and south branches to Lake Michigan at Saugatuck, and streams from eight counties flow into it. The Kalamazoo passes through cities such as Kalamazoo and Battle Creek. Excellent canoeing abounds along the river, but one of the most popular trails winds through the Allegan State Forest between Allegan and Saugatuck. Old Allegan Canoe (no website; 2722 Old Allegan Rd., Fennville, Michigan; 269-561-5481) offers rentals and support for three- and five-hour trips on this part of the river.
Thornapple River
The Thornapple River is a tributary of the Grand River, and it flows for nearly 88 miles before it joins the Grand near Ada. Most of the river is unsuited for canoeing, thanks to its small size and overgrowth in its upper sections and a series of dams and reservoirs downriver. However, a 14-mile section between these inhospitable areas is a popular trail for canoeists and kayakers, and several outfitters, including Whispering Waters Campground and Canoe Livery (no website; 1805 N. Irving Road, Hastings; 269-945-5166) support trips in this area.
Photo Credits
Thinkstock Images/Comstock/Getty Images