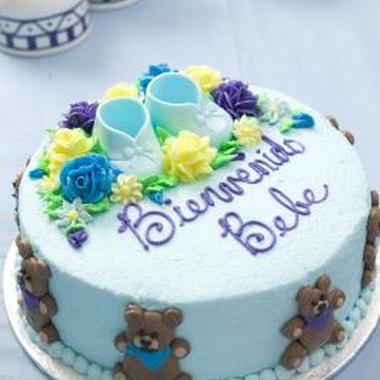 Using a wishing well at a baby shower is a simple way to give the mom-to-be gift cards, greeting cards and other small gifts. The wishing well typically sits in the middle of the guest of honor's table or on the gift table where guests see it right away. Use different items from around the house or items you buy specially to make a wishing well that ties into the theme of the baby shower.
Laundry Basket
An ordinary laundry basket functions as a wishing well, especially if you're pressed for time. Use a round or circular laundry basket, rather than a square or rectangular basket. Decide ahead of time how you want to arrange the basket. For larger gifts, turn the laundry basket right side up in the center of the table. For smaller gifts, like cards and money, set the laundry basket upside down on the table. Cut a slit in the top of the basket, approximately 1 inch wide and several inches long. The basket also comes in handy for the mom-to-be when it comes time to load her gifts in the car.
Garden Planter
Visit your local lawn and garden supply store and look through the planters. Many stores sell planters designed to resemble wishing wells. Opt for one in wood or plastic, which the guest of honor can later use in her own garden. If you can't find one that looks like a wishing well, then pick a decorative planter in colors that match the theme or colors of the baby shower.
Woven Basket
For a simple and basic look, use a plain woven basket or wicker basket. Pick a basket that has a handle on the top for easy carrying. Wrap the handle of the basket in ribbon that coordinates with the baby shower colors. Tie the ribbon into a large bow on the handle of the basket and display it in the center of the table.
Make Your Own
When all else fails, make your own wishing well from baby products. Arrange diapers in a round shape on the table and stack them at least six inches tall. Decorate around the diapers with baby lotion, diaper cream, rattles, and other items. Cut a long rectangle from a sheet of posterboard and tape it to the diapers, making a top for the wishing well. Ask guests to place small gifts in the center.
Photo Credits
Jupiterimages/Photos.com/Getty Images