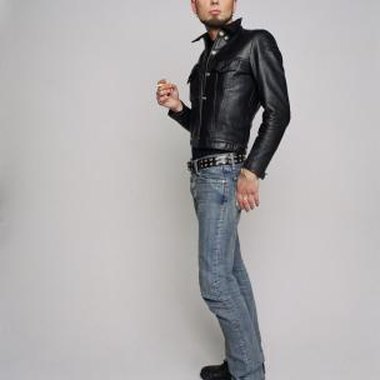 Billie Joe Armstrong is the front man for the half-punk, half-pop band Green Day. He has had a strong interest in music since his childhood; he even left high school without graduating to devote himself fully to his music. "The Salt Lake Tribune" has described Armstrong as a "hard-partying troublemaker," but as Green Day's most-recognizable face, he's become not only a cultural icon, but a fashion icon, with legions of male and female fans imitating his very specific style.
Items you will need
Jet black hair dye

Blow dryer

Boar-bristled brush

Gel

Black boxers

Black skinny jeans

Black studded leather belt

Black shirt

Electric sander

Safety pins

Black liquid eyeliner

Cotton swab

Black striped scarf

Leather studded wrist cuffs
Step

1
Dye your hair jet black. Depending on your level of commitment, use a permanent or semi-permanent dye. Begin blow drying your hair with a boar-hair-bristled brush.
Step

2
Add a quarter-sized amount of gel to your hair and distribute it evenly. Continue to blow your hair dry, spiking it in various directions with your brush as you go.
Step

3
Put on a pair of black boxer shorts. Put on a pair of black skinny jeans that are one size too big for you. Adjust the jeans so that they rest low on your hips, exposing your boxer shorts slightly. Thread a black leather belt with black studs through the belt loops.
Step

4
Put on a shirt: Nearly any black shirt will do. If you opt for a T-shirt, distress it with an electric sander here and there to create holes and organic-looking tears. You can even add some safety pins around the collar. If you opt for a black collared shirt, tuck the shirt messily into your pants and wear the collar up. A horizontal striped shirt is also appropriately punk, but one of the stripes must be black, such as black and blue stripes, or black and white or gray stripes.
Step

5
Line your eyes with a black liquid liner. Take a cotton swab and smudge the lines around your eyes.
Step

6
Add accessories such as black leather wrist cuffs that have metal studs and/or a black striped scarf.
Tips & Warnings
If you can find any black vintage T-shirts of bands that influenced Armstrong, such as Ozzy Osbourne, Def Leppard and Van Halen, those are also appropriate.
References
"Punk: Music, Fashion, Attitude!"; Charlotte Guillain; 2010
Photo Credits
Brand X Pictures/Brand X Pictures/Getty Images