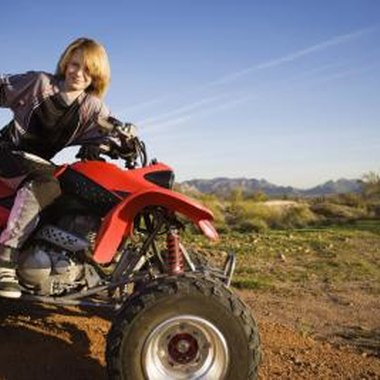 Hocking Hills, Ohio, is home to many campgrounds and all-terrain vehicle (ATV) trails. Some parks even offer both activities in one location. The Wayne National Forest contains the state's largest ATV trail system and is a popular place for off-road riders. Camping options in Hocking Hills are plentiful, will full-service companies like KOA offering locations, while other, more primitive tent options, are also available through the area. Camping and ATV trails offer families and friends a chance to experience the outdoors together.
Hocking Hills KOA
The national camping company KOA owns a location in Hocking Hills. The camp location offers travelers a state-of-the-art camping experience. Wi-Fi internet is available on the campgrounds, along with washers and dryers, a game room, horseshoe pits and a playground. Rates and packages vary depending on the time of year and holiday season but military and senior discounts are offered. Cabins, RV hook-ups and tent locations are all offered at this popular campground.
Hocking Valley Canoe Livery
With three separate camping locations, the Hocking Valley Canoe Livery offers outdoor adventure. With sites along the Hocking River, the Canoe Livery offers campers a range of options, from primitive tent-only camping to cabin rentals with electricity, running water and refrigerators. One-night stays are welcome but weekends and holiday weeks require a two-night minimum. Fishing is allowed on property but hunting is prohibited. At the time of publication, three-person camp sites range from about $25 to $35.
Sauerkraut Road ATV Trail
This privately-owned property is a great beginner and introductory trail system for the first-time ATV rider. Owned by Ohio ATV World (ohioatvworld.com) -- the same company who offers rentals and guided trails through the Wayne National Forest -- the trails at Sauerkraut Road offer something for every level of rider. Beginners can warm up and learn the basics, while advanced riders can ride more challenging trails. Both guided and unguided trail rides are offered.
Wayne National Forest
Located in Hocking Hills, the Wayne National Forest is a sprawling trail system designed for all-terrain vehicles, bikes and horses. It is the largest off-road trail system in all of Ohio. Permits must be purchased to ride and use the trail system. Permits can be purchased at local Hocking Hills retailers and the Wayne National Forest headquarters in Nelsonville. ATV rentals for the Wayne National Forest are provided by Ohio ATV World. Reservations are required to rent any recreational vehicle.
Photo Credits
Jupiterimages/Brand X Pictures/Getty Images