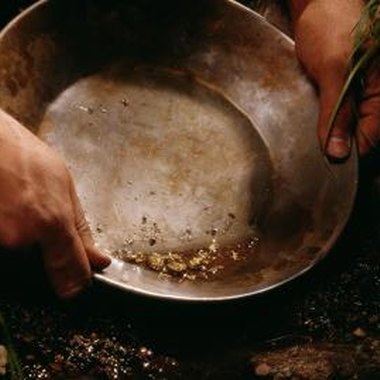 There are several gold mines and panning sites located near the city of Greenville in the northwest corner of South Carolina. However, if you're looking for an established campground that offers panning for gold, you'll need to drive an hour or two outside of Greenville to western South Carolina, North Carolina or Georgia. Sites in all of these areas belong to a gold belt that extends from central Alabama to northern Virginia.
Oconee Camp, SC
Oconee Camp (southcarolinaparks.com) is located 50 miles west of Greenville, north of Walhalla, South Carolina. Flake, fine gold and nuggets can be found here by dredging, sluicing and panning. The camp has about 120 acres of wooded land and a year-round stream. A clubhouse, restrooms and showers are planned for the future.
Thermal City Gold Mine, NC
Thermal City Gold Mine (huntforgold.com) is 80 miles northeast of Greenville in Western North Carolina's Rutherford County. It offers mining instruction, supplies, stone inspection and special events, including the annual Memorial Day Miners Meet. Visitors can sluice, dredge and pan for gold while staying in cabins or campsites with restrooms and hot showers. The camp is run by real gold prospectors who enjoy teaching and talking about mining, and manage a Rock Shop and Mineral Museum.
Lucky Strike Recreational Gold and Gem Mine, NC
The Lucky Strike Recreational Gold and Gem Mine (luckystrikegoldandgem.com), also in North Carolina, is about 85 miles northeast of Greenville at Vein Mountain. This area is considered one of the richest gold bearing areas in the eastern gold belt. Historical reports suggest the potential for finding large nuggets of gold here as well as for finding semi-precious gems worth cutting. Facilities include a flume line, campsites with hookups, restrooms, a shower house with hot water, a gift shop and a restaurant called The Miners Diner.
Lound Mine, GA
The Loud Mine (goldprospectors.org), is 100 miles west of Greenville, near Cleveland, Georgia. Visitors can highbank, sluice, pan and dredge along Town Creek in the historic Dahlonega Gold Belt. The campground is privately owned and has 39 acres, a full-time caretaker, clubhouse and dump station. Bathrooms and showers will be added in the future.
Photo Credits
Jupiterimages/Photos.com/Getty Images