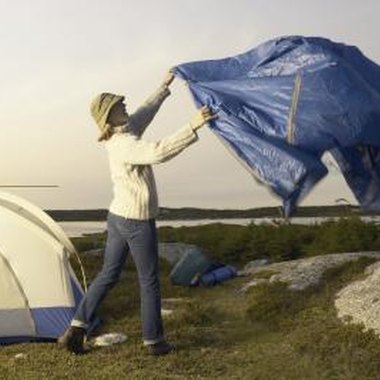 The Miami Dolphins football stadium is located in Miami Gardens, Florida. If you are headed to the Sun Life Stadium for a football game, concert or event, you will find many campgrounds in the area. Whether you are tenting or have an RV, there is a camp site to meet your needs.
C.B. Smith Park
The 299-acre C.B. Smith Park (broward.org/Parks/CBSmithPark) has all the amenities you could hope for in a park with a campground -- a water park, tennis court, golfing center, picnic shelter, bicycle rental booth, batting cages and fishing locations. The lakeside campground has 71 tent and RV sites, most with water, power, sewer hookups, picnic tables and grills. You will also find showers, a laundry facility, restrooms and after-hours security.
Embassy R.V. Park
The Embassy R.V. Park (no website; 3188 Lake Shore Drive, Pembroke Park; 954-961-8892) has 67 sites available for its guests. If you're looking for a place with a pool, this might be it. There is also a bathroom, golfing and fishing and the campground is only three miles from the beach.
Trinity Towers
The 11-acre Trinity Towers (no website; 3300 Pembroke Road, Hollywood; 954-962-7400) offers 30 RV sites. The camp does not allow tents or pets, except service dogs. The sites have full hookups and the facility sells propane. To pass the time, you can take a dip in the large pool (it is heated in the winter), play shuffleboard or basketball or go fishing.
Grices RV Park
If you're looking for a campground with cabin rentals, the Grices RV Park (no website; 5931 Polk St, Hollywood; 954-983-8225) may be the ideal place. This place has 37 sites and six are suitable for tents. Two stalls are pull-through. All stalls have power and wireless Internet. A dumping station is on site.
Seminole Park
Seminole Park (seminolepark.com) is across the street from the Seminole Indian Gaming Casino. It has two heated swimming pools. There are 110 full hookup RV sites, and the park's claim to fame is that it can accommodate the largest RVs on the road.
T.Y. Park
The T.Y. (Topeekeegee Yugnee) Park (co.broward.fl.us/PARKS/topeekeegeeyugneepark) has 61 RV and tent sites tucked into a corner of the 138-acre urban park. The restroom is air-conditioned. There are hot showers, laundry facilities, wireless Internet and a dump station. Reservations and two pieces of identification are required at this campground to get the resident discount.
Twin Lakes Travel Park
Twin Lakes Travel Park (twinlakesrvtravelpark.com) covers 40 acres. Touted as "more than just a place to park your RV, we are a community," it offers mail service, bingo events, horseshoes, a pool hall, movie nights and social events in the clubhouse. There are 370 sites with power, eight restroom facilities with showers, eight laundry facilities, two pools, modem hookups and a security gate.
References
"Camping Florida: A Comprehensive Guide to Hundreds of Campgrounds"; Rick Sapp; 2010
"Camping and Cruising in Florida"; James Alexander Henshall: 2010
Photo Credits
Hemera Technologies/AbleStock.com/Getty Images