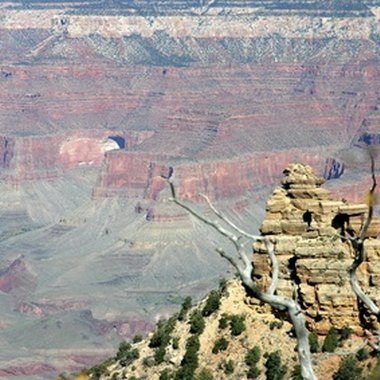 Cameron, Arizona, is just east of the Grand Canyon; the census-designated place provides lodging for tourists looking to start their Grand Canyon adventure. Cameron is small -- its population hovered around just under 1,000, as of the 2000 U.S. Census -- and sits near several large Native American reservations. Hotels in the Cameron and Tuba City area are decorated in a Southwestern style that allows guests to be immersed in the local desert culture.
Anasazi Inn at Gray Mountain
The Anasazi Inn at Gray Mountain is a one-story, 112-room inn close to the Grand Canyon's eastern entrance to the south rim. The old-fashioned inn -- right on the border of an Native American reservation -- offers small but comfortable basic lodging for travelers. The hotel has an outdoor swimming pool on site so guests can get a reprieve from the intense heat that comes along with peak tourism season. The Anasazi Inn at Gray Mountain has a full-service restaurant and bar, as well as a gift shop selling authentic, handmade Native American arts and crafts.
The Historic Cameron Trading Post
The Historic Cameron Trading Post was erected in the early 1916 by the brothers Hubert and C.D. Richardson, and served as a post where Navajo and Hopi residents could barter wool, livestock and handmade blankets for dry goods. Because the post was out in the middle of nowhere, the brothers also decided to open up an inn for housing weary travelers. Today, the inn remains, but the actual trading post -- still owned by descendants of the Richardsons -- has been turned into a museum showcasing and selling Native American art and souvenirs. Rooms at the Cameron Trading Post are richly decorated in Southwestern style, featuring hand-carved furniture and artwork. The hotel offers standard- and suite-style rooms, as well as full hook-ups for RVs.
Quality Inn Navajo Nation
The Quality Inn Navajo Nation is located in nearby Tuba City. This 80-room hotel offers basic standard and suite set-ups, featuring cable television, high-speed Internet and, in the case of suites, full-sized sitting rooms. The hotel serves free breakfast every morning in its lobby, and has Hogan's, a Mexican restaurant, on-site to take care of lunch and dinner. The hotel's gift shop trades in Native American crafts and souvenirs. Nearby attractions include Kate's Restaurant, several Native American reservations, Sunset Crater Volcano and the Hopi Cultural Center.
Grand Canyon Lodge - North Rim
Grand Canyon Lodge - North Rim, at Bright Angel Point, was declared a National Historic Landmark in 1987. This facility offers comfortable, rustic guest rooms as well as on-site cabins. The spacious cabins come with a private bath and a front porch; some can accommodate as many as six guests. The Lodge Dining Room serves up regional as well as 1930s-themed fare -- with organic and locally grown produce and ingredients -- for breakfast, lunch and dinner. Other on-site restaurants include the Deli in the Pines and the Rough Rider Saloon. Cookouts are available seasonally.
Moenkopi Legacy Inn & Suites
The Moenkopi Legacy Inn & Suites, located in Tuba City, is one of the only hotels to be built on Hopi tribal land. The cozy inn, decorated in elaborate, authentic Southwestern style, has a 3,096-square-foot business and conference center, an outdoor pool, a fitness center and beautiful gardens on site. Rooms are spacious, and come with queen-sized beds, flat-screen TVs and distinctive Hopi decor. The hotel's suites come equipped with a wet bar, a sleeper sofa, a whirlpool tub and a kitchenette. Continental breakfast is served every morning in the hotel's lobby, and the hotel-owned restaurant across the street, TUUVI Cafe, serves traditional American and Hopi food for breakfast, lunch and dinner.
Photo Credits
grand canyon south rim 2388 image by drsPIX from Fotolia.com