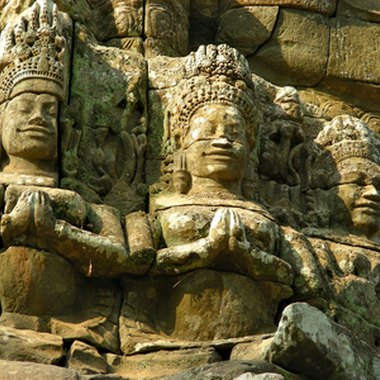 Although it was once a dangerous place where only hardy backpackers dared to tread, Cambodia is now among Southeast Asia's major tourist destinations and has seen a growth in its hotel sector to match. The days when the only accommodations outside of Phnom Penh were simple guesthouses offering rooms with only an electric fan and a mosquito net are over, and luxury hotels are now available around Cambodia's major tourist sites.
Considerations
Cambodia is still a poor and relatively underdeveloped country, struggling with the legacy of a quarter-century of war, so luxury hotels are not available in all parts of the country. Major tourist areas, such as Siem Reap (where the Angkor ruins are found), the capital of Phnom Penh, and the coastal towns of Kep, Kampot and especially Sihanoukville have such top hotels. Other remoter points of interest, such as Battambang, do not. Travelers who insist upon high standards should keep this in mind during their travel planning.
Amansara Resort
Located in the northern town of Siem Reap, the Amansara Resort provides a luxurious base for exploring the ruins of Angkor. Frommer's named it among the "Best Luxury Hotels" in the country, while Fodor's named it a "Fodor's Choice." The 24-suite resort was once a villa owned by King Norodom Sihanouk, and the decor is a minimalist blend dark wood and white stucco, and every bedroom has its own stone bas-relief of a banyan tree. The luxury treatment does not end at the resort's gates, as a private tuk-tuk driver and guide service for the Angkor ruins are part of the package.
Raffles Hotel Le Royal
Situated in a classic of art deco architecture dating back to 1929, the Raffles Hotel Le Royal was labeled the best luxury hotel in Phnom Penh by Frommer's and Fodor's, and earned plaudits from the New York Times as well. Staying in the Raffles conjures some of the atmosphere of the French empire in Indochina, and many of the suites are still furnished with claw-footed bathtubs dating back to that period. Patrons can also visit the Elephant Bar for an afternoon cocktail and indulge the Raffles tradition of snacking on peanuts and chucking the shells onto the floor.
Knai Bang Chatt
The Knai Bang Chatt is situated in the river town of Kampot, a place which once drew stylish jet-setters from around the world, but is now a sleepy place to get away from it all. Described as "exclusive and luxurious" by Fodor's and as a chic spot for "luxury and escapism" by the New York Times, the hotel is not quite as isolated as the Kampot location might seem, since the staff arranges excursions to the seaside town of Kep (15 miles away), offshore islands, tai chi classes and a host of other options. Kampot is also a major pepper producing area in Cambodia, so be sure to try some fresh, green peppercorns with a few meals while there.
Photo Credits
angkor - cambodia- asia image by KaYann from Fotolia.com