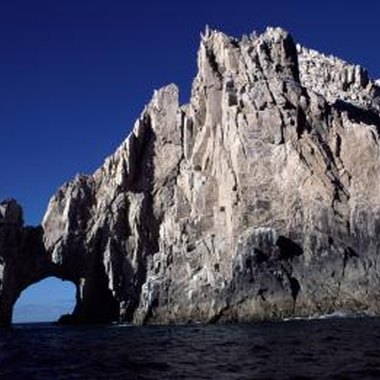 Set at the southern tip of Mexico's beautiful Baja Peninsula, Cabo San Lucas, together with the neighboring town of San Jose del Cabo, is part of the area in Mexico known as Los Cabos, often referred to as simply "Cabo." Once known primarily as a destination for big-game fishing, the area now counts as one of Mexico's top vacation destinations.
Beaches and Water Sports
Whether you are looking for a beach full of action and adventure, or a scenic and tranquil beach, Los Cabos has a beach for you. Playa del Amor is known for great swimming, snorkeling, and scenery. Punta Palmilla beach is located on a wide bay, making it a great swimming and snorkeling beach that is popular with families. For surfers, or to watch surfers and surfing competitions, Playa Costa Azul and Play Acapulquito are the best surfing beaches. Divers flock to Play Barco Verado and Playa Bahia Chilleno. The coves and volcanic rock formations at Playa las Viudas make it a popular spot for those seeking privacy, safe swimming and snorkeling. For beautiful scenery, snorkeling and viewing marine wildlife, Playa Santa Maria is a must-visit beach. Water sports enthusiasts will enjoy Playa Bledito, also known as Tequila Cove. A breakwater makes for safe swimming, and water sports equipment rentals are located on the beach.
Sport Fishing
Sport fishing is what put Cabo on the map, and the area continues to be one of the top sport-fishing destinations in the world. The nutrient-rich waters where the Pacific Ocean meets the Sea of Cortez attract Marlin, Tuna, Wahoo, Dorado and Swordfish, to name a few. Anglers from around the world descend on Los Cabos for fishing tournaments such as the Bisbee Black and Blue (bisbees.com), an annual tournament with cash prizes in the millions of dollars. Charters de Los Cabos (chartercabos.com) and Picante Bluewater Sportfishing (picantesportfishing.com) offer cruisers and yachts for full- or half-day fishing excursions. The best fishing runs from June to December.
Land Sports and Activities
Golfers, nature lovers and extreme-sports enthusiasts will find numerous options for outdoor fun and excitement in Cabo. Los Cabos golf courses are considered some of the world's best, and are home to international golf tournaments such as the PGA Senior Slam Tour. Nature lovers and adventure seekers will enjoy exploring the beauty of the Los Cabos area by foot, horseback, mountain bike, ATV, helicopter, zip line, dune buggy and other off-road vehicles.
Shopping Dining and Nightlife
Savor the culinary delights of Los Cabos in gourmet ocean-front restaurants, traditional eateries with authentic Mexican fare or lively beachfront bars and restaurants. The specialty of the region is seafood -- crab, fish, lobster and shrimp. Shoppers and art lovers will find many fine art galleries, as well as shops selling wares such as traditional handcrafted goods, silver, ceramics and jewelry. Puerto Paraiso shopping mall (puertoparaiso.com) offers shops, restaurants, a casino and a cinema near the Cabo San Lucas Marina. While daytime in Los Cabos is about sun, sand and surf, the evenings sizzle with music, dance, good food and drink. Top spots for live music and dancing include Cabo Wabo (cabowabo.com), The Hard Rock Cafe (hardrockcafe.com), and The Nowhere Bar (nowherebar.com).
Resources
Photo Credits
Dynamic Graphics Group/Dynamic Graphics Group/Getty Images