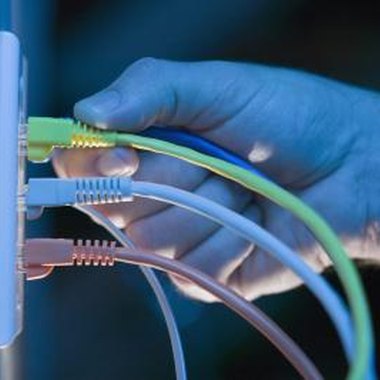 The more the Internet becomes omnipresent in society, the more high-speed access becomes a necessity rather than a mere luxury. High-bandwidth activities such as downloading and uploading media, streaming video, listening to music, and video-chatting with friends and family are best done on high-speed connections such as DSL or cable. In Tennessee, several such options exist.
Time Warner
Time Warner provides cable-delivered, high-speed Internet access to customers throughout the state. The package can be bundled with digital cable TV, which includes on-demand channels and high-definition broadcast, as well as telephone service. Roadrunner High-Speed Internet, Time Warner's Internet product, runs on a fiber-optic network and allows for instant connection -- no waiting as with dial-up. The Internet service includes security features such as firewall protection.
AT&T;
AT&T; is one of the country's larger Internet providers and also provides services in the state of Tennessee. Its high-speed Internet facilitates picture-sharing, video transfer, keeping track of news and sports, and other features useful for broadband. AT&T; offers the Virtual Private Network service, which lets subscribers remotely access email and files from a different location.
Comcast
Comcast provides high-speed Internet with upgrade options for speeds up to 12 Mbps. The Internet subscription can also be bundled with cable TV and phone services, which are also digital. The service runs on a fiber-optic network for higher data transmission velocity, up to 8 Mbps, which is nearly 100 times faster than dial-up.
New Wave
New Wave Communications is a smaller competitor in the high-speed Internet market, operating in Tennessee and only a few other states. It operates four stores in Tennessee. New Wave offers full, high-speed Internet -- up to 15 Mbps -- in addition to other services, such as television, high-definition DVR and music channels.
Photo Credits
Comstock Images/Comstock/Getty Images