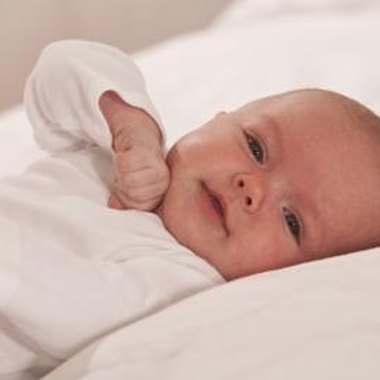 The 1995 film "Butterbox Babies" is based on the true story of the Ideal Maternity Home in East Chester, Nova Scotia. In her book "Butterbox Babies," published in 1992, Bette Cahill revealed the shocking and macabre story of the home, which cared for single, pregnant girls and women in the 1930s and 1940s. Cahill continued her research and corresponded with many of the home's survivors, and later added their stories to her original manuscript. These stories -- sometimes joyous, others tragic -- included survivors' searches for their birth parents.
The Film
Cahill's exposé made it to television in 1995 as a Canadian TV movie, "Butterbox Babies." The drama told the true story of unwed mothers at the home run by Lila and William Young, played by Susan Clark and Peter MacNeill. As the story unfolds, the Youngs seem to have a golden public image as an upstanding couple aiding young, pregnant single women. The secret of the operation was that the Youngs purposely starved "unmarketable" babies -- deformed, seriously ill or dark -- and buried them around the property in butter boxes.
Awards
In 1996, "Butterbox Babies" was acknowledged by the Gemini Awards, the annual Canadian television awards. Executive producer Trudy Grant and producer Kevin Sullivan won for Best Television Movie or Mini-Series. Catherine Fitch received the Gemini for Best Performance by an Actress in a Supporting Role in a Dramatic Program or Mini-Series. Clark was nominated for a Gemini for Best Actress, and Raymond Storey was nominated for Best Writing.
The Butterbox
Butter boxes were small pine boxes in which butter and other grocery items were delivered from the market. The Ideal Maternity Home guaranteed discretion and privacy, and many babies deemed not fit for adoption mysteriously disappeared. These children became known as the "butterbox babies," after the boxes in which they were buried. A butter box -- 22 inches long, 10 inches wide and 10 inches deep -- became the coffin for unsellable infants.
The Youngs
In 1928, The Life and Health Sanitarium was renamed The Ideal Maternity Home. The owners -- Young was a chiropractor and traveling Seventh-day Adventist minister, Lila was a midwife -- took in unwed pregnant girls and arranged adoptions for their infants. In 1945, the couple faced allegations that included profiteering from fees charged to residents and adoptive parents, and they were investigated for the home's high rates of infant mortality. Lila reportedly delivered the babies in unsanitary conditions, with no doctors or nurses on the staff.
The End (Spoilers)
The death of Eva Neiforth and her baby in 1936 brought attention to the Ideal Maternity Home and the Youngs, who were charged with two counts of manslaughter. The couple won the case after a three-day trial. After more investigation, they were charged with fraud. By 1945, they were ordered to close the home. Lila sued for slander over newspaper articles, and lost. The couple, reputations soiled beyond repair, left town completely bankrupt.
Photo Credits
Comstock Images/Comstock/Getty Images