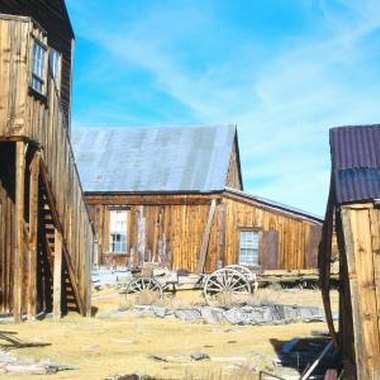 Themed parties are an entertaining twist on the classic "done to death" impromptu party. They require that participants make some effort to follow the theme, usually with a costume or accessories. For wild west parties like the "OK Corral" theme, costumes are less of a problem than the locale. However, with careful selection and small effort on the part of the hosts, there are many buildings that will set the scene for a rollicking good time.
Wild West Towns
Wild West towns provide a number of buildings for an "OK Corral" themed party. If you live in the western United States, you can find many of the original settlement towns from the 1800s that have been restored and maintained for tourism purposes. The management of many of these will allow the use of their facilities for parties for a moderate fee. The only downsides are that some are a bit remote for a casual party. In states such as Texas, however, many roadside shopping plazas use restored Wild West facades to draw in visitors. A number of these locales are gracious enough to allow parties to take place on their grounds and will set aside space in their establishments, often for free, for such events if you call ahead.
Wild West Parks
Unlike western towns, Wild West parks exist across the nation. As far east as New Jersey, places like "Wild West City" have recreated the look of the old west within a short drive of modern metropolitan areas. The visitors' fee for such sites might be excessive for a casual gathering, but for less than $20 per person, you can recreate a Wild West shootout in the main street of one of these themed locales to rival an actual Wild West town. Most will gladly set aside space for parties and even have special rates and locales for such events. The major concern with any park aside from cost is availability, because many are open during certain times of the year.
Community Buildings
Many communities have civic centers or park meeting buildings specially set up for accommodating group events. These locales are often free for public use, but sometimes have limited access to power or water. It's best to scout the location before making a commitment. While these locales are not specifically accented for "OK Corral" themes, they do allow guests to bring in and set up a number of props or party accessories. If you have a difficult time finding appropriate accents, try calling tractor supply stores or nearby farms and ask if they have any old barrels or wagon wheels, as well as bales of hay. Many will either give such items away or loan them for a short time at no charge.
Other Useful Buildings
Depending on your budget and willingness to set up props, a number of local buildings may provide good themed party meeting sites. Office strips will often have unused spaces that they will lease for a single event. Some school gymnasiums are available for public use for parties and are spacious enough to accommodate a considerable crowd. In some locales, empty warehouses are also a possibility. Some companies and hotels even specialize in leasing locations for events. The close proximity of such locales is beneficial, but they require time and effort to make them appear appropriate for your themed party
Photo Credits
NA/Photos.com/Getty Images