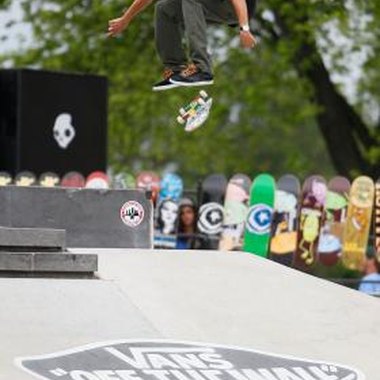 Understanding the working components of a skateboard will allow you to make any necessary adjustments or repairs. While the skateboard setup can look simple enough, certain parts such as the bearings and trucks require a degree of expertise. While many skateboarders buy a pre-assembled setup, others prefer to customize each of the components. Building your skateboard from the ground up will allow you to tailor the setup to your riding needs. Warehouse Skateboards of North Carolina recommends using a specialized skate tool that can adapt to the numerous sizes, nuts and bolts of the skateboard setup.
Items you will need
Skateboard deck

Grip tape

Razor blade

Phillips screwdriver

Hardware

Trucks

Bearings

Wheels
Step

1
Lower the underside of the skate deck onto a flat worktable. Remove the paper backing from the rectangular sheet of grip tape. Place one end of the tape over the nose of the skate deck.
Step

2
Slowly apply the grip tape down the length of the deck to prevent air bubbles. Carve around the outline of the deck with the razor blade to remove excess grip tape. Insert the screwdriver through the mounting holes of the deck to puncture the grip tape.
Step

3
Slide one bolt through each of the mounting holes of the skate deck. Hold the deck sideways to prevent the bolts from sliding out. Align one metallic truck over each set of bolts on the underside of the deck.
Step

4
Fasten one nut onto the threads of each bolt. Hold the bolts in place with the screwdriver while tightening the nuts with the skate tool. Flip the skate deck upside down and lower it onto the worktable.
Step

5
Push two bearings into each of the wheels with the protruding knob of the skate tool. Slide one wheel onto each side of the truck axles. Tighten one nut over each of the wheels with the skate tool.
Photo Credits
Jared Wickerham/Getty Images Sport/Getty Images