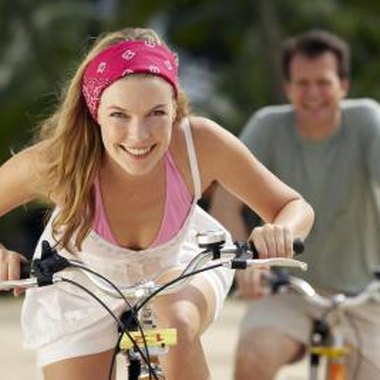 Buffalo Grove, Ill., forms part of Chicago's northern suburbs. The village has a history dating back to the mid-1800s and provides a link to its pioneering past by naming parks after some of its earliest settlers. Residents and visitors to Buffalo Grove can enjoy a variety of amenities in the parks, as well as many other attractions in the village.
Hiking/Cycling Trails
Buffalo Grove has developed a network of paved trails (vbg.org) that extends to over 50 miles. The trails run throughout the village, connecting many of the green spaces and parks, providing a convenient way for pedestrians, cyclists and in-line skaters to get around. Coordination with neighboring villages also links the network to other trail systems, allowing visitors to explore surrounding communities.
Annual Events
Among annual events, the Buffalo Grove Days Festival dates back to the 1950s, and these days involves a five-day celebration in early September. Events staged typically include a parade, fireworks display, concerts and carnival rides. Art fans can visit the Invitational Fine Arts Festival in July. Up to 150 artists display their work at this two-day festival, and visitors can also enjoy performances by local musicians.
Golf Courses
Golfers can choose from among two courses in Buffalo Grove. The Buffalo Grove Golf Club (buffalogrovegolf.com) has three sets of tees, with the back set playing to a length of almost 6,700 yards. The Arboretum Golf Course (arboretumgolf.com) is slightly shorter, at around 6,450 yards from the back tees. Buffalo Grove operates both courses, and each has a clubhouse with lockers, a pro shop and a restaurant.
Farmers Market
A Farmers Market operates in Buffalo Grove from mid-June to mid-October each year. It takes place on Sunday mornings at Mike Rylko Community Park, with many local farms and food producers setting up stalls. Visitors can find plenty of fresh fruit and vegetables for sale, as well as locally made cheese and bread.
Park Facilities
Buffalo Grove boasts many park amenities. The Buffalo Grove Park District (bgparkdistrict.org) manages more than 50 facilities. These include the Mike Rylko Community Park, which has a skate park and spray 'n play area for kids, the Aquadome Swimming Pool and the Willow Stream Park, which has disc golf courses to enjoy. Dog lovers can walk their pets in the Happy Tails Dog Park, and fitness buffs can make use of the Buffalo Grove Fitness Center.
Museums
The Buffalo Grove Park District manages the Raupp Museum, which has three galleries, providing visitors with a perspective of the village's history. The main gallery has displays showing the development of Buffalo Grove from its early days to modern times, and the Town Square Gallery provides a view of the village as it stood in the early 20th century. The third gallery stages temporary exhibits about village life and other topics.
Photo Credits
Goodshoot RF/Goodshoot/Getty Images