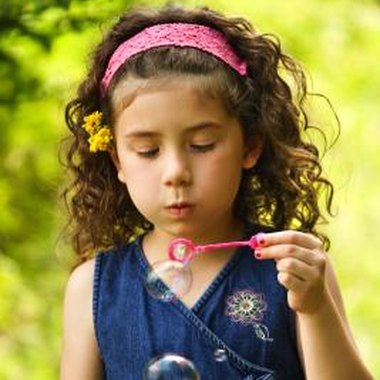 Your little one loves bubbles, so a "bubbly" birthday party is sure to be an event she won't soon forget. Bubble-themed birthday invitations are impressive and attractive, and will give guests a preview of the enjoyable time they'll share with the young guest of honor, along with the essential birthday party details.
Bubble-Shaped Invite
Cut invitation stock paper in the shape of circles to resemble bubbles. Light blue or white paper will make the bubbles look more realistic. Write the party details on the invitation, such as the time, date, and party location, and cover the invites in clear or blue plastic wrap to give the paper a shine that resembles a real bubble. You can even spritz the invitations with a fresh-scented body spray like citrus to maintain the bath time theme.
Mini Bubble Bottles
Purchase mini bottles of bubbles from the local craft store in your child's favorite colors to use for his party invitations. Tie a ribbon or piece of yarn around the bottles, and purchase card stock paper in the colors your son likes best. Write or type the party specifics on the card, and punch a hole in the card to weave the ribbon or yarn through. Tie the ribbon or yarn around the card to keep it in place before giving the bubble invites to guests.
Bubble Blowers
Purchase large plastic bubble wands in various bright colors like hot pink and electric blue for each guest who is invited to your daughter's bubble-themed birthday celebration. Write the date, time, location, and RSVP information on a small invitation card; fold the card as small as you can and place it inside of an un-blown balloon. Blow up the balloon, tie it to a string, and attach the string to the bubble wand. At the party, place trays of soapy water on the main party table so guests can dip their toys into the water and produce large bubbles.
Bubble Picture Invitations
Use a bubble-themed picture of your child as the backdrop for the party invites. For instance, a photo of your little one taking a bubble bath makes an adorable 1st or 2nd birthday invitation. A photo of your child blowing bubbles outside makes an attractive invitation as well; use brightly hued colored stock paper for the invitation to get guests' attention, and write the party details on the opposite side of the picture.
Photo Credits
Jupiterimages/Comstock/Getty Images