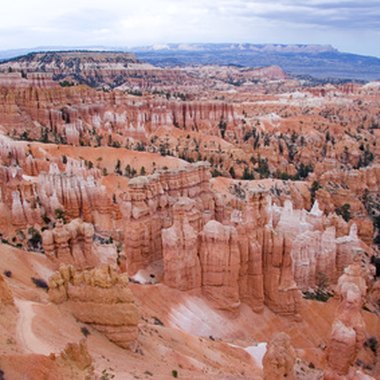 Bryce Canyon National Park in Southern Utah has colorful rock formations called Hoodoos created by centuries of erosion. Visitors find several resorts and hotels in and around the park that offer convenient access to it most popular attractions including Bryce Canyon, Thor's Hammer and a visitor center with exhibits and an award-winning film of the park.
Bryce Canyon Resort
Bryce Canyon Resort is less then 3 miles north of Bryce Canyon National Park on Highway 12. The full-service, country-style resort offers an activity desk to help guests plan their excursions. Accommodations include standard rooms, suites with whirlpool tubs and private rustic cottages with fully equipped kitchens. Guests enjoy views for the red rock landscape from the hotels as well as a heated indoor swimming pool. Bryce Canyon Resort Cowboy Bay located on-site features a rugged western atmosphere and served Mexican-American cuisine.
Bryce View Lodge
Bryce View Lodge is located centrally in Bryce Canyon City overlooking Bryce Canyon National Park. The western-style lodge offers free shuttle to the park and is within walking distance to the Cowboy Buffet, Canyon Diner and Ebenezer's Barn & Grill that offers a cowboy dinner show. Standard rooms are available that give guests access to indoor and outdoor pools at the lodge's sister resort across the street. Old Bryce Town is a stretch of one-of-a-kind shop in Bryce Canyon City two blocks away and feature souvenir stores, a rock shop and a western decor store.
Bryce Canyon Inn
Bryce Canyon Inn is located just two miles east of Bryce Canyon National Park and eight miles from the visitor center. The inn offers views of Powell Point and Bryce Canyon and has convenient access to highway 12. Hotel rooms and private log cabins are available and feature natural log furniture and western decor. Guests receive complimentary breakfast at the on-site western cuisine restaurant, which also contains a gift shop.
Bryce Valley Inn
Bryce Valley Inn is within Tropic a short drive east of the main entrance of Bryce Canyon National Park. The Gallery at Clarke's is adjacent to the hotel and features art and photos of the Bryce Canyon landscape. The inn offers affordable accommodations, pet-friendly rooms and a general store with souvenirs. Guests receive a free pancake breakfast at Clarkes Restaurant, which serves regional cuisine and is across the parking lot from the hotel.