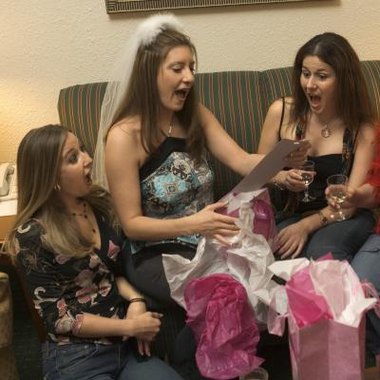 As a member of the bridal party, it's your responsibility to help pull together a bridal shower to celebrate the bride and give her gifts in honor of this milestone in her life. Luckily, Massachusetts offers many sophisticated options for hosting a bridal shower if your guest list requires that you host the shower outside of your home. Whether you want to host the shower in the picturesque outdoors or at a classy hotel, Massachusetts' major metropolitan areas and rural getaways are home to a number of fine shower venues.
Boston Metropolitan Area
Boston is a great place to host a bridal shower. The Hotel Indigo Boston-Newton Riverside (newtonboutiquehotel.com; 399 Grove St., Newton; 617-969-5300) is conveniently located at the end of D line on the Green Line, minutes from the Riverside T station in Newton. The Hotel Indigo offers a sophisticated bridal shower oasis that's outside the chaos of downtown. The Tirrell Room (thetirrellroom.com; 254 Quarry St., Quincy; 617-847-6149), in Quincy, is another popular wedding spot, with manicured lawns and spacious dining areas that make it perfect for a lavish bridal shower. The Taj Boston (tajboston.com; 15 Arlington St., Boston; 617-536-5700) is a timelessly classy hotel right in the heart of downtown, with access to the popular North End for dining and dessert. Call to inquire for rates and availability.
Western Massachusetts
The area of Western Massachusetts incorporating Pittsfield, Springfield and Lenox is surrounded by the beautiful Berkshire Mountains and makes a unique setting for a bridal shower. Try the Cranwell Resort, Spa and Golf Club (cranwell.com; 55 Lee Road., Lenox; 413-637-1364) in Lenox, where you can raise a toast to the bride-to-be on the Rose Terrace, surrounded by a 60-mile view of the mountains. Reserve the Wedding Glen space at The Porches Inn (porches.com; 231 River St., North Adams; 413-664-0400), an outdoor picnic area perfect for gathering your bridal party to celebrate the impending nuptials. Owned and operated by the McGovern family, the White Horse Inn (whitehorsebb.com; 378 South St., Pittsfield; 413-442-2512) offers an interconnected kitchen, dining room and porch for a social space that is perfectly suited for a warm and cozy gathering.
North and Central Massachusetts
The Exchange at the Wenham Tea House (wenhamteahouse.com; 4 Monument St., Wenham; 978-468-1398) is a refined institution, offering bridal shower attendees the opportunity to take afternoon tea in the picturesque town of Wenham in northern Massachusetts, near the ocean. 10 Center Street in quaint Newburyport (tencenterstreet.com; 10 Center St., Newburyport; 978-462-6652) is a famous seaside destination, with a function room that accommodates up to 50 for a plated dinner or 70 for a cocktail reception.
Cape Cod & The Islands
Banquet packages are available for groups of 15 or more at Buca di Beppo Italian restaurant in Seekonk (buccadibeppo.com; 353 Highland Ave., Seekonk; 508-336-4204, online booking available), with themed dining rooms and a private dining experience if you desire. Everyone loves Martha's Vineyard, with its beach access and small-town feel, so why not host the bridal shower at the Wesley Hotel (wesleyhotel.com; 70 Lake Ave., Oak Bluffs; 508-693-6611)? The Borsari Gallery in Cape Cod (borsarigallerycapecod.com; 524 Main St., Dennis; 508-385-3434) offers an art-gallery setting for your bridal shower, combining fine art and high tea for a super-chic shower experience.
Photo Credits
Thinkstock/Comstock/Getty Images