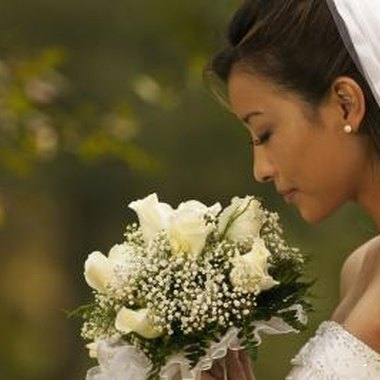 Before most brides find themselves immersed in the excitement and thrill of going to the chapel on their wedding day, they get to experience the long-standing tradition of being honored as a bride-to-be at their bridal shower. Originally the purpose of these celebrations was for friends of the bride to show their support and well wishes for her upcoming nuptials. Upon the introduction of the bridal shower umbrella, the general focus of bridal showers shifted into an occasion to shower a bride-to-be with gifts.
History of Bridal Shower Umbrella
Prior to the 1890s, the purpose of a bridal shower was to give a woman who was soon to be married advice and support for her upcoming nuptials. Somewhere during the decade of the 1890s, a bridal shower was held where the hostess did things a bit differently. She filled a parasol with small gifts and opened it over the bride's head to simulate showering her with gifts. Once news of this party idea spread through media, the popularity of the bridal shower umbrella grew immensely.
Traditional Wedding Parasols
Traditionally, the parasols used in weddings are made of a delicate lace cloth that is ivory, black or white in color. These light umbrellas can add a degree of romanticism to a wedding ceremony. To incorporate traditional wedding parasols for a bridal shower, use them as decoration rather than placing gifts in them to shower the bride. For example, hang a parasol underneath a ceiling light fixture. Do not place the parasol too close to the actual light to prevent any safety hazards. The glow of the light coming through the lace parasol can create a lovely lighting effect for a bridal shower.
Bridal Shower Umbrella Decorations
Create a cute and fun centerpiece for a bridal shower by making a bridal shower umbrella tree. Start with a decorative flower pot or small bucket. Cut down a branch that is sufficient to fit as a centerpiece in your designated space. Make little "umbrellas" by using white or brightly colored cupcake liners. Tie ribbon onto the bottom of the liner and hang it upside down on the tree. Add whimsy to your centerpiece by placing tiny gifts around the base of the tree.
Bridal Shower Umbrella Photo
Honor the tradition of the bridal shower umbrella by having a photo shoot at your shower. Provide each guest with a fun umbrella or parasol. Get the entire party gathered together with everyone's umbrella or parasol resting on their shoulder. Add fun details such as large hats, gloves or fancy scarves to imitate the old world appeal of parasols and umbrellas.
Photo Credits
Comstock Images/Comstock/Getty Images