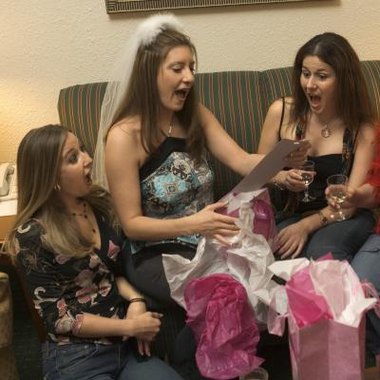 The maid of honor is traditionally in charge of pre-wedding festivities for the bride. If not, it's definitely someone who cares enough to show the bride a good time. To gear up for the bridal shower, make extra special invitations to show guests and the bride what a special occasion it is. Before you start, coordinate with the bride to see what she wants, if she wants to have an active role in planning or wants you to take the reins.
Invitation Content
Whether your invitation uses basic, straight-to-the-point wording, a play on words, or refers to something specific about the bride-to-be, make sure you include all the important facts: who, what, where, when, and why. Double-check all the important information to make sure it's accurate. The last thing you'd want is to have the bride show up at a party that everyone thought was the next day.
Consult With The Bride
Before you write the invitations, ask the bride whether she wants a traditional shower (women only) or a co-ed celebration. She may want it to be the biscuits-and-tea event that she can invite her grandmother to, or she might want it to be a kegger with only her closest friends. Also find out if there are any details she wants passed along to guests regarding gifts, food, or special requests. If she doesn't want to deal with pre-wedding gifts, write "No gifts, please" on the invitations.
Themes
If your party is going to have a theme, indicate it on the invitation. For example, if the bride loves the color purple and you are having a purple-themed party, tell the invitees to wear that color. If it's a surprise bridal shower, make sure this fact is loud and clear on the invitation, and follow up with guests. If you aren't going to have a traditional bridal shower, feel free to have fun with themes. Have a risque adult theme, such as lingerie, or a bridal pampering theme, such as spa and beauty. If your party ventures out for the night, give the bride-to-be a fun scavenger hunt. Make it a day (or night) that the bride will remember, and that will prepare her for her big day.
Invitations
If you or someone you know is particularly computer savvy, make invitations on your computer using a photo editing program. Import a photo of the bride into the program and incorporate it into the card. Play around with it and have fun. Put the bride in a funny outfit or hat, or stylize the photo with an artistic effect. Or don't change the photo at all; just feature a photo of the bride looking beautiful. Add text directly on the photo (make sure it contrasts with the background so it's legible) and print it out on card stock. If you don't want to do invitations yourself, use a company that makes customized invitations, or one that makes handmade invitations.
Photo Credits
Thinkstock/Comstock/Getty Images