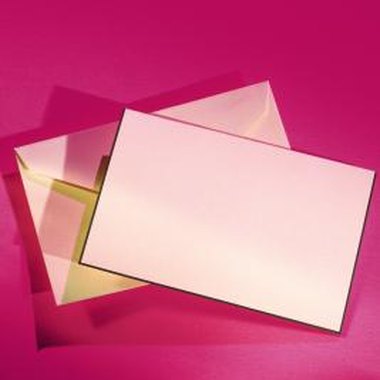 A bridal shower is a time to honor the bride-to-be with gifts and well-wishes. The events leading up to the wedding will be a whirlwind for the bride, but a heartfelt card is something she can keep forever to remember that exciting time. A sentimental message means more than any gift, but coming up with just the right thing to say can be challenging. Consider your relationship with the bride, and make your message personal.
Offering Advice
Family members and old friends are often the first to offer advice to blushing brides. Although she may not care to hear your opinion on the flower arrangements, the keys to a long, successful marriage are always welcome. Tell the bride what makes your own marriage work, but keep it jovial and lighthearted. This is also an opportunity to add some humor. "A happy wife makes a happy home" or, "There is nothing better than a man who washes dishes" are fun, light phrases about the little things that make marriages last.
Sharing Memories
People who have known the bride for years may have happy memories of seeing her grow up. A message in a card is a way to share these memories and keep them between the two of you. The goal is not to embarrass the bride, but to remind her of how far she has come. "From falling off your bike to falling in love, I have loved watching you grow" tells the bride she has a lifelong friend in you. Good-natured humor is also appropriate here, but keep in mind the bride's feelings. "Your orthodontist wouldn't believe the woman you have become" may be cute for some women, but could be seen as ribbing to others. And of course, keep old boyfriends out of it.
From His Family
The bridal shower is an opportunity for the bride to interact with the groom's female relatives. Welcoming her to family with warm messages will put her at ease. The bride's relationship with the mother-in-law is long-storied, so open the lines of friendly communication early on. "I am so glad to be gaining a daughter" shows she is truly family. Just keep old girlfriends out of it.
Best Wishes
For those who do not know the bride well or just have trouble with greeting-card messages, kind wishes are always tasteful and appropriate. "May your marriage be blessed with happiness and love" or "Love one another without limits" convey joy and affection. Use your own stationery to appear more personal. If you are using a pre-made card, add a heartfelt message to show the bride thoughtfulness and sincerity.
References
Photo Credits
Comstock/Comstock/Getty Images