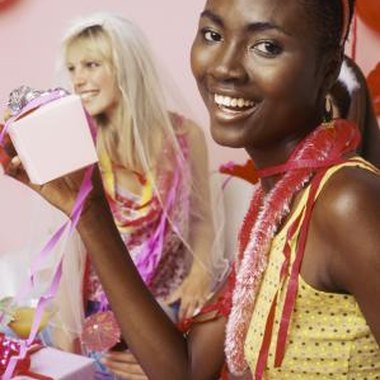 Bridal showers are a time to shower the bride with gifts for her new life as a married woman. If she's having more than one shower, though, your bank account could end up getting soaked. While you want to celebrate the bride-to-be's impending nuptials, how many gifts are you required to give?
Gift Giving
Many brides have multiple showers. They may have one at work, one with friends and one with family. If you're a good friend or family member, you may be invited to attend them all. You may feel obligated to bring a gift to each shower. Don't. The Etiquette Guide website says you are only required to bring one gift to one of the showers, even if you attend more than one. If money's no object, then shower the bride with as many gifts as you like.
Considerations
While you may feel uncomfortable not bringing a gift to a shower, if you have already given the bride a gift, you should enjoy all the chances you have to celebrate with her. Despite what you may think, no one will notice your empty arms and think you are being cheap. If you're just completely uncomfortable showing up without a present at additional showers, split the amount you intend to spend and buy a couple of smaller gifts, one for each shower. A simple card also may suffice.
Communicate
If you're unsure about whether the bride or couple, if it is a party for both, expect gifts at every wedding-related event, just ask. You can contact the host of the party. If you don't know the host well, give the bride a call. Let her know that you want to attend, but can only afford to give one gift. Chances are she will assure you that she would rather have you there with or without a gift.
Gift Buying
If a bride is having multiple bridal showers, she likely has at least one wedding registry to help her guests find gifts. The registry information usually is included in the invitation. If it's not, contact the hostess or the bride for the information. As long as you can afford something on the bride's registry, choose a gift from the list. While etiquette does not require you to use the registry, it helps cut down on duplicate gifts and makes things easier for the bride. If you buy something from the registry, make sure the cashier scans the registry so the item shows as purchased.
Photo Credits
Stockbyte/Stockbyte/Getty Images