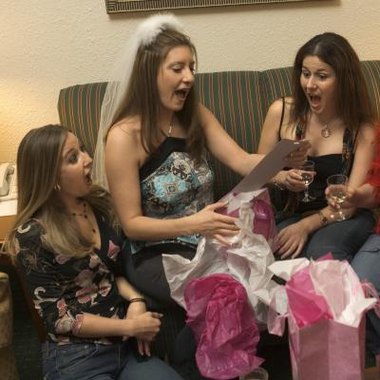 Who needs stamps when you have e-invitations? Send an electronic invitation to all your friends for that upcoming bridal shower you're planning. An e-invite gives your guests and friends all the details they need to plan for the shower in the form of an email.
Types of E-Invitations
From formal to fun, send the right e-invitation to match your bridal shower's theme. Both evite.com and 123greetings.com have a handful of bridal shower e-invites to choose from. Evite.com invitations feature images of flowers, a wedding dress, food or champagne glasses while the invitations on 123greetings.com feature music and animation. Once you decide on how formal the bridal shower you're planning will be, pick a card that best matches your theme.
Wording
Lost for words? Don't worry. Some of the e-invitations on 123greetings.com and evite.com feature a standard greeting about the bridal shower. This is similar to what you would see on the outside of a card you buy at a store. With an e-invite, all you have to do is fill in the particulars like the date, location, start time and the name of the person hosting the event. Everything else, like the location's address, is optional. All the e-invites feature space where you can write your own message to guests. This is where you can include information about the bride, groom, wedding and gift registry if you want. If there's a theme for the shower or if the bridal shower is a surprise, this is the place where you tell guests everything they need to know.
Facebook
Avoid sending individual e-invitations to multiple friends using a handful of email addresses. Instead, post your e-invite on Facebook for all your friends to see. Both evite.com and 123greetings.com let you create an e-invitation and then either send to individual friends' Facebook inboxes or post it on your "News Feed" page for all your Facebook friends to see.
Extras
Unlike a traditional invitation you send in the mail, e-invites let you add a little extra. Add music, send a map with turn-by-turn directions for each guest, send guests reminders as the date draws near or let guests see who's coming. E-invites make it easy to keep your guests informed while allowing you to customize an invitation.
Photo Credits
Thinkstock/Comstock/Getty Images