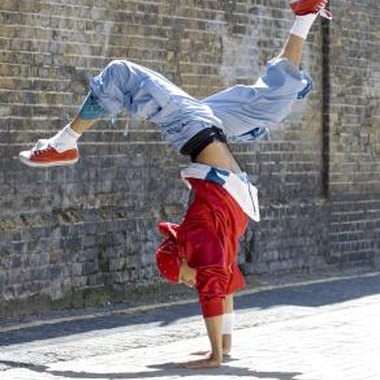 Big hair and bigger dance moves are fond memories for adults who grew up in the '80s. Break dancing combines beat-box-style music with acrobatics and attitude to produce some gravity-defying results. Focus on music and decorations to bring back that '80s feel during your breakdancing party.
Music
Pull out an old boombox and set the party atmosphere by playing some old-school rap selections. Public Enemy, Beastie Boys and Run DMC are some of the original "bad boys" of rap and the music beats are often used for break-dancing. For an added touch, set up a karaoke station and allow guests to free-style rhyme their own raps while other guests join in on the break-dancing fun. Hold a rap contest and see who comes up with the "ill-est" rhymes.
Decorations
Think retro decorations for your '80s break-dancing party. Keep an area of the floor open for dancing contests; linoleum or wood floors work best. Use black lights, neon-colored table settings and large posters to decorate your area. The posters do not have to be time-period specific, just use a few cans of spray paint and "graffiti" the wall hangings. Incorporate some '80s toys, like Rubik's cubes or oversized novelty cell phones to complement table settings. Toss in a few pogo balls for guests to "hop" around on.
Clothing
Ask your guests to dress the part by sporting authentic break-dancing garb. Track suits, headbands, wristbands and Converse all lend to the break-dancer theme. Have a costume contest and give prizes for the most authentic outfit, the most accurate outfit and the wildest outfit. Encourage guests to bring a large piece of cardboard to lay down so they can display their moves. Give extra points to guests that bring a "matching" posse.
Moves
Offer some mini lessons at the party for guests that are break-dancing challenged. If you do not know how to break-dance, consider hiring a dance instructor to give lessons during your theme party. Ensure that you have enough room to accommodate all of your guests or give lessons in small groups of two to three at a time. If you cannot find a dance instructor, purchase a break-dancing DVD for your guests to practice with during the party.
Photo Credits
Polka Dot Images/Polka Dot/Getty Images