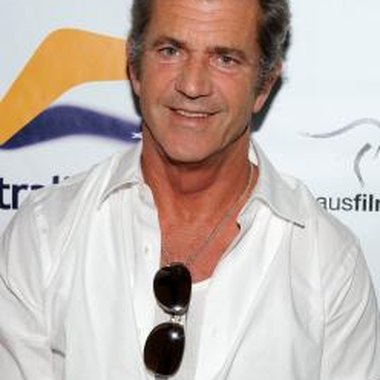 Mel Gibson already had a massively successful acting career in 1995 when he made his directorial debut with the movie "Braveheart." The epic tale tells the story of Scotland's revolution for independence from British control. The film not only helped solidify Gibson as a serious leading man, but also established him as a major Hollywood director.
Story Overview
"Braveheart" tells the story of William Wallace, who led Scotland in revolution against England at the turn of the 14th Century. Wallace's father and brother are killed and he is raised and educated by his uncle. He chooses the life of a simple farmer, but when his new wife is murdered by English soldiers, Wallace decides to fight. He gathers together an army and they face King Edward Longshanks and the English army. Although Wallace ends up a martyr for his cause, he inspires Scottish leader Robert the Bruce to take on England for Scottish independence.
Fact vs. Fiction
Historians have been enthusiastic to point out the discrepancies between fact and fiction in the "Braveheart" story. Wallace is depicted as a simple Highlander, when in reality his father was a knight, making Wallace a nobleman. The script also takes liberties with the dateline of events. During battles when King Edward I of England was married and a grown man in the film, he was really only around 12 years old. Even fashion is used for effect in the movie. The kilts that the Scotsmen wear did not come into vogue until the 1700s.
Production Details
"Braveheart" was Mel Gibson's pet project both in front of and behind the camera. He stars as William Wallace and chose this picture as his first ever to direct. He shot the film on location and staged its complicated, epic battle sequences in the picturesque Scottish Highlands. "Braveheart" cost $72 million to shoot and employed hundreds of men as battling extras. In addition to Gibson, the cast included Catherine McCormack as Wallace's wife Murron, Angus MacFadyen as Robert the Bruce, Patrick McGoohan as King Edward Longshanks and Brendan Gleeson as Scottish warrior Hamish.
Awards
"Braveheart" was a critical hit and a huge award winner in 1996, following its release in '95. In addition to winning awards from the Golden Globes, the Director's Guild and the Hollywood Foreign Press, the movie was nominated for 10 Academy Awards. "Braveheart" took home five Oscars, including Best Director for Gibson and awards for cinematography, sound effects and makeup. "Braveheart" also won the coveted Best Picture Oscar for 1995.
Photo Credits
Frazer Harrison/Getty Images Entertainment/Getty Images