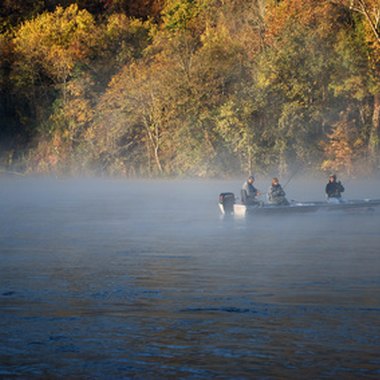 The 35-room Brass Door Motel in Gassville, Arkansas underwent a complete renovation in 2008. Special amenities for outdoors-lovers visiting Bull Shoals and the White River are on hand, as well as family and dog-friendly accommodations. The motel's location provides access to nearby attractions like the Buffalo River and the Ozark National Forest.
Location
Brass Door is located on East Main Street in the Ozark Mountain town of Gassville, six and a half miles from Mountain Home and two miles from the Cotter, Arkansas access point to the White River. Mountain Home Regional Airport is about six miles to the northeast. The Buffalo River, a favorite with whitewater rafters of all skill levels, is 15 miles south. The Brass Door's sister property, the Brass Door Inn and Suites, is located on Bull Shoals Lake.
Extras
The Brass Door provides some extra amenities for visiting boaters who are in the area to fish at Bull Shoals and Norfork Lake. Ground floor rooms have outside electrical outlets for electric coolers and boat battery charging. A large parking lot with a level, wide driveway provides easy access for large trucks, trailers and boats. A fishing tournament-style boat charging station and a water connection for boat and motorcycle washing are on site.
Recommendations
This budget-friendly non-chain motel offers deluxe Jacuzzi suites with two-person tubs for romantic Ozark weekends and honeymoons. Deluxe king rooms with a king-sized bed and sofa bed accommodate small families. Larger families or groups traveling together have the option of renting adjoining rooms or reserving rollaway beds, at an additional cost. The motel recommends double rooms for two fishing buddies. Brass Door accommodates both smokers and non-smokers with one exception. Jacuzzi suites are all nonsmoking.
Nearby Eateries
Three fast food businesses operate downtown and a restaurant a few steps from the motel specializes in standard Mexican-American food and serves breakfast all day in a smoke-free, family-friendly atmosphere. Pulled pork sandwiches, barbecued chicken and brisket are on the menu at another downtown restaurant. Gassville's sole pizzeria won the prize for Best Traditional Pizza in the 2010 International Pizza Challenge. The restaurant also serves calzone, wings, stromboli and subs and delivers to Brass Door Motel.
Resources
Brass Door Motel; 621 East Main St.; Gassville, AR 72635; 800-244-1964
Photo Credits
Fishing on the White River at Bull Shoals, Arkansas image by Jackie DeBusk from Fotolia.com