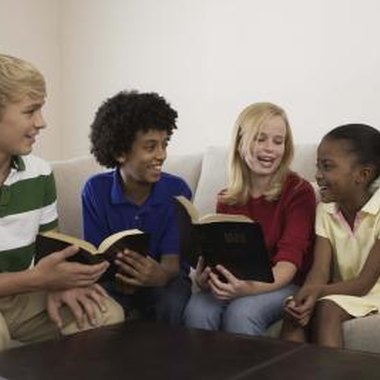 The Boxcar Children, a series of more than 120 children's books, is an ongoing saga of the adventures and escapades of four orphaned children who always end up in unusual locations. In the first book of the series, they live in an abandoned boxcar. Wherever they are, they find and solve mysteries and meet new friends. The "Blue Bay Mystery," number six in the series, is a great example of the wit and resourcefulness of these spirited, fictional children.
Characters
Henry is the oldest of the children, with Jessie right behind him in age, then Violet and Benny. In the "Blue Bay" book, Benny's friend Mike is brought along on their expedition, and Peter, a young island castaway, is introduced about halfway through the novel. The children's caretaker, Grandfather Alden, has a great sense of adventure throughout the story, along with his friends Lars and Captain Brown. Myrna, a talking bird, completes the main cast of this intriguing adventure on an exotic island.
Series Background
The four children were originally orphans who were always on the run. They believed their grandfather to be mean-spirited and unwelcoming. When they finally meet him, they find that he is actually kind and gentle. After moving into his home, the grandfather moves the boxcar they had originally lived in into his backyard, where they use it as a playhouse. Throughout the series, he takes them on many travels where they encounter interesting people and solve many mysteries.
Synopsis
In "The Blue Bay Mystery," Grandfather Alden takes the children out of school and, along with Benny's friend Mike, travels with the children to a deserted South Sea island with his friend Lars, who was shipwrecked at that exact location years ago. There the children explore the small island and find many strange clues that it is not as uninhabited as they originally thought. Benny falls into a trap set by a young castaway who had been alone on the island for several weeks. Grandfather Alden and the children befriend Peter and re-unite him with his parents when their ship comes back to pick them up from the island.
Series History
The first 19 books of the "Boxcar Children" series were written by Gertrude Chandler Warner and illustrated by Dirk Gringhuis. "Blue Bay" was originally written in 1961 and the copyright renewed in 1989. All titles after the 19th story in the Boxcar series are written by various authors under Warner's name.
References
"The Boxcar Children: The Blue Bay Mystery"; Gertrude Chandler Warner; latest edition -1989
Resources
"The Boxcar Children: The Blue Bay Mystery"; Gertrude Chandler Warner; latest edition -1989
Photo Credits
Jupiterimages/Brand X Pictures/Getty Images