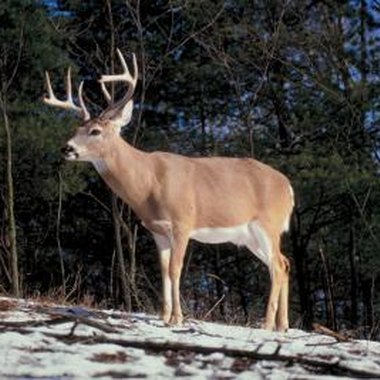 Gladwin, Michigan, near the center of the state's lower peninsula, is in an area that has a good deal of state-managed land accessible for hunting. Bow hunting is extremely popular in Michigan and, while many hunters hunt both the bow and firearm seasons, bow hunters tend to view their activities as more challenging, sporting and pure.
The Season
Bow hunting in Gladwin, Michigan follows the same hunting time lines as the rest of the state: The season begins on October 1st and runs through November 14th. On November 15th the firearm season begins; bow hunting season resumes on December 1st and runs through January 1st.
Accessing Land
State land in Michigan is open to all legally licensed hunters; the Gladwin area has a significant amount of state land accessible for hunting. While you can place blinds on state land, most hunters carry their blinds in and out of the field each day to avoid their use -- or even theft -- by other hunters. You will need to purchase a pass to enter a state park; these are available on a daily or yearly basis.
Hunting Methods
Bow hunting is generally a "sit and wait" endeavor; on state land this can be difficult, as it is harder to "claim" a spot and to scope it out for deer sign prior to hunting. The deer rut (the primary breeding period) usually occurs in mid-Michigan at the end of October or early November, during which time the deer will be more active and likely to be moving. Late season hunting (in December) is not nearly as active, but can be equally productive as deer have just finished being harassed by the much larger number of gun hunters and will feel the decline of human pressure and resume greater movement.
Baiting
For 2011, the lower peninsula baiting ban in Michigan has been lifted for most counties, including Gladwin. This means that hunters can place up to two gallons of bait over a 10-square foot area. This is particularly important and helpful for public land hunting, as food plots and nearby crop are not as accessible to deer. Baiting may be the deciding factor in encouraging deer to frequent a particular location.
Safety
State land can be very crowded; although It is not typically as crowded during bow season as it is during gun season, safety should always be the first priority. When entering and exiting the hunting area, be sure to wear plenty of bright hunter's safety orange clothing to make you Maas visible to other hunters as possible.
Photo Credits
Jupiterimages/Photos.com/Getty Images