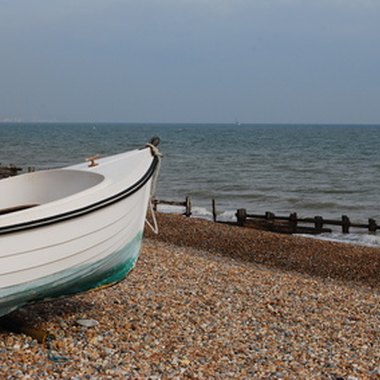 Traditionally, Britain's seaside hotels were either the huge but tired grand hotels of the 19th century or the seaside boarding houses of cheap holidays at the end of train lines. But, since the Millennium, the growth in the idea of the "staycation" or the short getaway, has led to the development of a new class of stylish, luxury coastal boutiques.
The Cary Arms
The historic Cary Arms was converted in 2009 into a luxury boutique hotel. The hotel, on Babbacombe Bay in Devon near Torquay, has 10 rooms, three housekeeping cottages and a gastropub style restaurant. Rooms have sea views, modern, nautically themed decor and a distinctly New England feeling -- perhaps because the owners, the de Savary family, are regular fixtures of the Newport, RI, yachting scene. In exchange for its dramatic setting, built into a steep hill, the hotel is difficult to reach and the stony beach is not easy for swimmers.
South Sands Hotel
Another New England-style hotel, the South Sands on Salcombe's South Sands Beach in Devon, is a rambling, clapboard covered building directly on the beach. Opened in 2010, this chic boutique hotel and beachside restaurant near the mouth of the Kingsbridge Estuary has 22 rooms and five suites. Rooms, which are named after classes of yachts, are spacious and feature luxury marble bathrooms, most with double-ended, free-standing baths. The hotel's most luxurious "J-class" rooms have oversized beds and twin, claw-footed tubs positioned to take advantage of the beach view.
Kemp Townhouse
Brighton's only five-star boutique, the Kemp Townhouse is a clever conversion of a narrow, gleaming white Georgian house, around the corner from the seafront and a few minutes from Brighton Pier. Taking advantage of the illusion of spaciousness created by the house's Georgian high ceilings, three rooms - a cozy single, a cozy double and a spacious "Grand King" or four-poster feature room -each with its own tiny wetroom, have been jigsawed onto each floor. Wetrooms are totally waterproofed bathrooms with floor drains, enabling more facilities to fit into small or irregular spaces. The top-floor four-poster room has a free-standing bath in the bedroom.
Bailiffscourt Hotel and Spa
Bailiffscourt, on the beach at Climping in West Sussex, is a wonderful English folly. Looking for all the world like an ancient medieval manor house, it was actually created in 1927 for a member of the Guinness brewing family. Antiquarian architect Amyas Phillips scoured the country for real medieval woodwork, doors, windows and fireplaces and brought them all together in what is now an eccentric luxury boutique hotel. Thirty-nine rooms are spread among several buildings including a medieval house, a thatched house, a coach house, a gate house and a moat house.
Resources
Kemp Townhouse; 21 Atlingworth Street; Brighton; East Sussex BN2 1PL; 011-44-1273-681-400
Bailiffscourt; Climping Street; Climping Nr. Arundel; West Sussex BN17 5RW; 011-44-1903-723-511
Photo Credits
White boat on stony beach, Pevensey, East Sussex image by Scott Latham from Fotolia.com