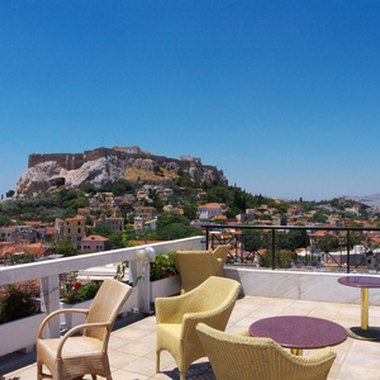 Located on the foothills of Acropolis, Plaka is the oldest historical site in Athens. Known for its neoclassical design, this area of Greece has as many hotels as it does tourist hot spots. Many of the accommodations in Plaka are boutique hotels that are located close to main attractions such as public baths and museums.
Hotel Magna Grecia
A member of the Great Small Hotels of the World, the Hotel Manga Grecia is in the heart of Plaka, near the Acropolis, Parthenon, Lycabetus Hill and the Theater of Dionysos. This accommodation is small in size with only 10 guest rooms, but offers amenities not found in many area hotels such as 24-hour room service, bike and car rental services, currency exchange, child-care services, breakfast with a view of the Acropolis and currency exchange. Accommodations range in size from single rooms to suites with an Acropolis view. All the guest rooms are equally modernly elegant, offer the same amenities and come with a canopy bed. Although the Hotel Magna Grecia does not have meeting rooms, it does provide its guests a business center with a computer that has Internet access as well as a printer and fax machine.
AVA Hotel Athens
Located in the heart of Plaka's Historical Centre at the foot of the Acropolis hill, the AVA Hotel Athens is near the Hadrian Arch, Temple of Zeus and Parthenon, and is just a 10-minute walk from the Syntagma (Constitution Square) and Parliament. Offering suites and apartments, the AVA Hotel Athens is a boutique hotel that features neoclassical Greek architecture and a modern, ancient Greek-inspired décor. Rooms at this hotel have furnished verandas, views of historical Plaka sites, and neoclassical black and white furnishings. Amenities include a separate living and sleeping quarters, hide-a-beds, magnifying mirror and a kitchenette.
Hermes Hotel
Only two blocks from the airport bus terminal, Syntagma square and the underground station, the Hermes Hotel is a three-star, small boutique hotel that features contemporary designs. Also nearby is the National Garden, Theater of Herodes Atticus and Parliament. Decorated with simple, neutral colors, all the rooms at this hotel have Internet access, wood floors, white marble bathrooms, family rooms and a refrigerator. Additional amenities include travel services, full breakfast buffets (at an extra cost), babysitting services and a children's playroom.
Central Hotel
Just two blocks from Constitution Square, in the business district of Plaka, the Central Hotel is a boutique accommodation that has the feel of a modern art museum. With a modern Italian-style design, the Central Hotel offers 15 guest rooms that are for smokers or nonsmokers and are large enough for a family with children. Amenities include an in-room refrigerator, private parking, conference rooms, daily breakfast, rooftop garden and a Jacuzzi.
Photo Credits
Hotel view of the Acropolis image by DocAcesRock from Fotolia.com