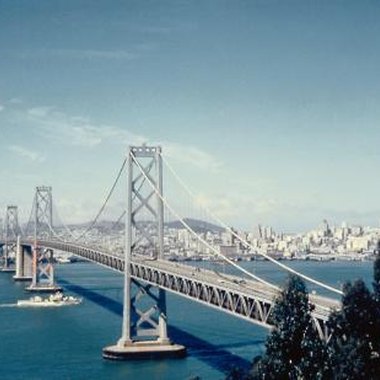 Jack London once walked its waterfront. Aviation legend Amelia Earhart took off from its airport in her ill-fated attempt to fly around the globe. Modern visitors come to jog the pathways around Lake Merritt in the early morning mist or dine on dim sum in Chinatown's age old restaurants. Parents bring their young ones for a visit with Alice and friends at Children's Fairyland. Chain hotels are found throughout Oakland's many neighborhoods, but there are a handful of boutique properties that welcome visitors with their local charm.
The Washington Inn
In the heart of downtown Oakland, the Washington Inn offers an oasis of sophisticated luxury. The renovated downtown landmark combines an Italian flavored architecture with furnishings that hint of the early 20th century. Sculptured pedestal sinks, brick red draperies held with gold tasseled tie backs and high ceilings contrast with the long stemmed mini-lamps gracing desks and bedside tables. Dine on fresh seafood, prime beef and local produce at the on-site Seison restaurant. The Oakland Convention Center is just across the street. Chinatown, Lake Merritt, the Oakland Art Museum and Jack London Square are just a few blocks away. The underground Lake Merritt BART (Bay Area Rapid Transit) station is two blocks away.
Inn at Jack London Square
Jack London Square, named for Oakland's famous author, is a waterfront retreat edging the estuary between Oakland and the island city of Alameda. Shops, restaurants and boat docks vie for the attention of visitors and business people looking for a mid-day break. The Inn at Jack London Square offers 100 comfortably furnished rooms, a quiet landscaped courtyard and a flower decked pool area. Contemporarily furnished rooms offer courtyard or waterfront views and enough electronic gadgetry to keep you in touch with the outside world. Go dancing at the nearby jazz club Yoshi's Nightspot or stop in for a pint at Heinhold First and Last Chance Saloon, one of Jack London's favorite watering holes.
The Waterfront Plaza Hotel
Perched at the edge of Jack London Square, the 143 room Waterfront Plaza Hotel gives guests the impression they are staying aboard a ship rather than on dry land. Walk into the lobby and look up. The up-side-down framework of an old time ship's hull is overhead. Shades of blue dominate the lobby, complementing the plank flooring that resembles the deck of a ship. The blues continue into the guest rooms, which offer balconies, fireplaces and in some cases views of the marina and San Francisco Bay. Dine on fresh oysters at the on-site Miss Pearl's Jam House or sip on mimosas at their Sunday brunch.
Lake Merritt Hotel
If you are planning on an extended stay in Oakland and want to experience living Art Deco style, you might consider the Lake Merritt Hotel. Built in 1927, this apartment/hotel offers 44 furnished apartment suites, all with lake and/or city views. Fully furnished kitchens offer stainless steel appliances, rather a contrast to the high ceilings and period style furnishings throughout each apartment. Join the weekly wine tasting party in the hotel's Terrace Room, an art deco style restaurant overlooking Lake Merritt. This apartment/hotel is available for stays of 30 days or longer.
Photo Credits
Jupiterimages/Photos.com/Getty Images