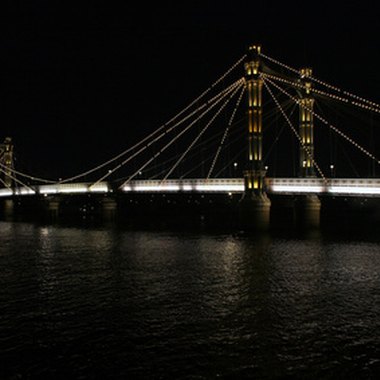 Hotels are scarce in Chelsea, a well-heeled residential "village" in London; so few, in fact, that once visitors discover the handful of boutique hotels scattered around this bijoux neighborhood, they try not to spread the word. Tucked into some of Chelsea's leafy squares or behind its rendered Georgian facades, you may find hidden treasures.
Sydney House Chelsea
The etched glass sign next to the door at the Sydney House Chelsea is so discrete that locals can walk right by it for years without realizing that a seven-story, 21-room hotel hides behind its glossy black door. The celebrities headed for the designer shops and restaurants-to-be-seen-in of Brompton Cross, around the corner, probably like it that way. This hotel's secret-within-a-secret is the stylish penthouse room at the top. It has porthole windows and a sun-trap terrace with a table and chairs where guests can entertain.
Myhotel Chelsea
Myhotels, a small group with hotels in Brighton, Bloomsbury and Chelsea, use the principles of feng shui to guide their design. Their five-story Chelsea hotel was once a police station. Now it is aimed squarely at women who shop for high end fashion - especially along Sloane Avenue and Brompton Cross. Feminine variations on pink themes, velvets and quilted satins predominate in most of the rooms and suites. One exception, the Thai suite, decorated in cream and brown, has its own private kitchen.
Sloane Square Hotel
The Sloane Square Hotel anchors one of London's most famous squares. A hub of fashion, avant garde theatre and cafe society, the hotel at the start of the famous King's Road, marks the boundary between residential Chelsea and the glamor shopping of Knightsbridge. Rooms vary in size and shape but all are well equipped. Bay windows on upper floors have pretty, upholstered window seats. Special features include Toshiba laptops in all rooms and free local and national telephone calls.
San Domenico House Hotel
Hidden away in Draycott Place, this 15-room boutique was named the Automobile Association's (AA) Best London B&B in 2009. Staying here is a bit like being the guest of a European aristocrat. All the rooms and suites are individually furnished with the owner's collection of antiques and 18th century Italian and English paintings. There are rag painted walls in some rooms, toile de jouy in others. Despite the antique decor, rooms have all the modern communications and entertainment technology guests expect.
Resources
San Domenico House; 29-31 Draycott Place; Chelsea; London SW3 2SH; 011-44-20-758-5757
Photo Credits
the albert bridge image by Martin Garnham from Fotolia.com