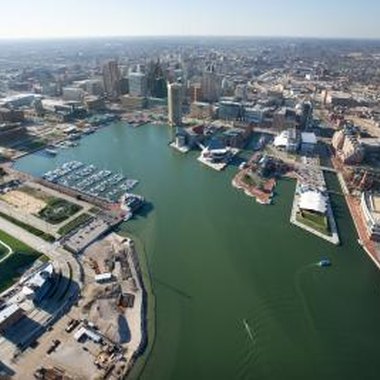 One of the country's first cities, Baltimore is home to many historic sites and buildings. The area's boutique hotel community has taken advantage of these storied buildings by converting them into trendy, upscale lodging. Guests can expect the clean lines and urban decor seen at bigger city boutiques. Personalized service and luxury in-room amenities are the norm at these small hotels. The hotel restaurants also offer something different: modern, contemporary fusion cuisine.
Hotel Monaco-Baltimore
Housed in the Baltimore and Ohio Railroad headquarters -- which was built in 1906 -- Hotel Monaco still has its original marble floors and Tiffany stained-glass windows. Restored Beaux Arts details and a palette of warm golds, brilliant blues and deep reds adorn the three-story, 202-room boutique. Towering guests may enjoy the hotel's Monte Carlo Tall rooms, which have extra-long king-size beds and taller shower heads. Grab a bite to eat at the B and O American Brasserie, which dishes up a menu of small international meals. The eco-friendly hotel only uses organic or fair trade coffees and efficient lighting fixtures, has a recycling program and rewards guests who arrive in a hybrid vehicle with discounted parking prices. As a Kimpton hotel, Monaco offers many Kimpton programs, like Kimpton InTouch, which allows the hotel to customize a loyal guest's room.
Harbor Magic Hotels
Harbor Magic Hotels operates three distinct boutique hotels throughout Baltimore. All of the hotels are members of the Preferred Hotel Group's Sterling Hotels. Receive additional benefits and amenities at Brookshire Suites by booking a Cloud Club Room. On Saturday mornings, guests can have breakfast with the hotel's shark mascot, Mr. Bite. The Admiral Fell Inn, a member of the Historic Hotels of America, is actually seven buildings that date back to the 1770s. The hotel operates a ghost tour and a reception with wine, beer and appetizers. For an eclectic, gourmet meal visit Meli Patisserie and Bistro; Tapas Adela serves Spanish cuisine and has a main dining room, private dining area and courtyard. A palette of purple, green, red and yellow give Pier 5 a whimsical feel. The 66-room boutique has views of the harbor and city skyline. Grab a seafood dish at McCormick and Schmicks, a steak at Ruth's Chris Steak House or classic Italian or vegan meal at Pizzazz Tuscan Grille.
Brexton Hotel
In 2010, the Board of Directors of Baltimore awarded the Brexton Hotel with the year's Historic Preservation Award. Modern decor and design, along with rich reds and subtle yellows, give this historic hotel a contemporary feel. Rooms come with iPod docking stations and, upon request, in-room spa treatments. Enjoy a complimentary European Continental breakfast and evening Manager's Wine and Cheese Receptions. The pet-friendly hotel also offers amenities for your furry friends. The hotel is located in a National Register Historic District, surrounded by Victorian row houses, carriage houses and historic buildings.
Inn at 2920
Unlike other inns, Inn at 2920 has traded in traditional charm for modern decor and furnishings, like walk-in rain showers, limestone-tiled bathrooms and whirlpool bathtubs. Each morning the hotel serves hot breakfasts and locally roasted coffee; the inn accommodates guests with special dietary needs. Guests can add on additional in-room amenities, like strawberries, chocolates, fruit baskets, wine, champagne, flowers and massage therapy. In addition, the hotel offers romantic and spa packages. Children under the age of 13 years old cannot stay at the hotel.
Photo Credits
Jupiterimages/Photos.com/Getty Images