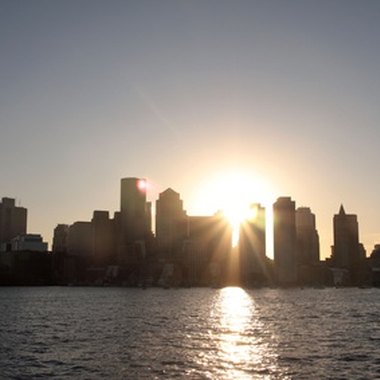 Boston attracts visitors with numerous world-class education institutions, museums, art galleries and pubs. Legendary neighborhoods draw history buffs, and expansive parks provide ample outdoor space for the city's many joggers, cyclists and outdoor enthusiasts. Boston can be expensive, so budget travelers choose to stay in Boston motels to conserve funds for preferred activities. Don't expect to find budget accommodation in Boston's posh city center, however. Boston motels are located on the outskirts of town.
Handy Access
The Super 8 Weymouth/Boston motel isn't the fanciest place around, but the motel's convenient amenities and easy access to area attractions make it an ideal resting spot for Boston travelers. Free perks include wireless Internet access, breakfast and daily newspapers. Guests request rooms with Jacuzzi tubs, microwaves and refrigerators. Downtown Boston is within 12 miles, and The John F. Kennedy Library, Boston EXPO Center, Boston's aquarium, historic Plymouth and Nantasket Beach are within 10 miles of the motel. Oversize parking spots accommodate tour buses, RVs and semi-trucks.
Outdoor Recreation
The Boston area's Knights Inn Boston/Danvers, located 17 miles from downtown Boston, offers an outdoor pool and barbecue area during the warmer months for guests to relax after a long day trooping around the city's museums and art galleries. Complimentary amenities include continental breakfast and wireless Internet access, and guests can request an in-room refrigerator. An on-site restaurant features entertainment on the weekends, and history buffs should check out Salem (of the notorious witch trial fame) located five miles from the motel. Leave pets at home as the hotel doesn't permit them.
Charles River
Located along the Charles River, the Days Hotel Boston-Harvard Fenway's free amenities include parking, wireless Internet access and daily newspapers. Some rooms come equipped with microwaves and refrigerators. Business travelers access the motel's business center, which offers copy and fax services. On-site amenities include a conference meeting room, fitness center and restaurant. Active guests step outside to jog or bike along the Charles River footpaths. Although the motel is located near Harvard University and other colleges, making it an inexpensive stopover for parents, guests must be 21 years or older to register.
Military Access
Not all guests arrive to Boston with leisure in mind. Located within two miles of Boston area's Hanscon Air Force Base, the Boston/Bedford Travelodge offers convenient budget accommodation for friends and family visiting military officers. Guests enjoy free parking, continental breakfast and daily newspapers. Nearby restaurants offer cheap Italian, steakhouse and seafood options.