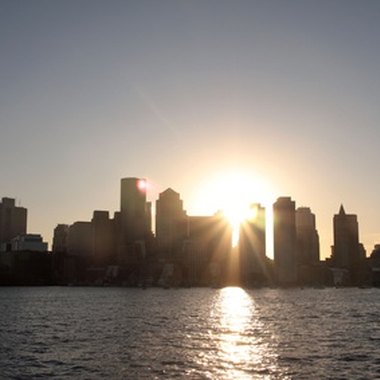 Tourists passing through Boston see the city's development from colonial times through the 21st century. This historic city maintains pieces of the past, including the Freedom Trail and Faneuil Hall, but Boston also appeals to modern tastes with attractions like the Institute of Modern Art and the Copley Place Mall. Boston's lodging industry ranges from hostels to luxury hotels to accommodate the diverse tastes of international travelers.
Hostels
Hostels in the heart of Boston offer basic accommodations to students and budget travelers. 40 Berkeley encourages relaxation between tours of Boston with a piano, pool table and computers in the lounge. This hostel rewards extended-stay guests with free breakfast and dinner vouchers at the cafeteria. Hosteling International Boston decorates common spaces and guest rooms with murals representing global destinations. Amenities like luggage lockers and laundry machines are helpful for long-term visitors to Boston, and travelers can prepare meals using appliances and utensils in the guest kitchen.
Bed and Breakfasts
The Boston area features myriad bed and breakfasts with unique amenities. The John Jeffries House marks the passage of time with paintings and furniture from the 19th century. Hungry guests are able to prepare meals using in-room kitchens or order gourmet entrees from the innkeepers. The Clarendon Square Inn presents relaxing spaces like a hot tub on the roof surrounded by tropical plants. Patrons are able to unwind by preparing espresso at the beverage bar and reading books from the first-floor library. This bed and breakfast accommodates guest needs ranging from GPS rentals to advanced tour arrangements.
Historic Hotels
Boston's rich history is reflected in the accommodations and amenities at historic hotels. The Boston Hotel Buckminster welcomes guests with a fireplace and framed photos of the hotel's 1897 opening in the lobby. Travelers in need of umbrellas, pet-sitting services and maps get assistance from the front desk. The Boston Park Plaza Hotel & Towers maintains lobby furniture and exterior features dating to 1927. Each room is adorned with blue, brown and white furnishings to create a relaxing atmosphere. Guests need not leave the property thank to lobby shops like Landau Jewelry and upscale restaurants like Pairings.
Waterfront Hotels
Waterfront hotels allow guests to stay within walking distance of Massachusetts Bay. The Seaport Boston Hotel provides views of the bay from Aura Restaurant as well as Wave Health & Fitness. This luxury hotel offers several transportation options, including car-sharing services through Zipcar and bike rentals. The Boston Harbor Hotel on Rowes Wharf outfits each room with upscale amenities like marble bathroom floors and plasma televisions. Guests relaxing in their rooms are able to request board games and children's toys from the front desk.