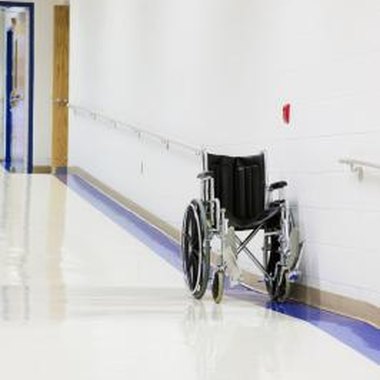 "The Diving Bell and the Butterfly" is a memoir released in 1997 by Jean-Dominique Bauby, a journalist who once worked as editor of "Elle" magazine. Adapted into an Academy Award-nominated movie, Bauber dictated the memoir to a transcriber after suffering a severe stroke that left him paralyzed in every part of his body, save his left eye and part of his face.
Writing the Memoir
Jean-Dominique Bauby suffered a stroke in December 1995 and, when he woke up 20 days later, suffered paralysis and lost control of almost his entire body. Using an assistant and transcriber, he told his story by blinking his left eye, using the French language alphabet. It took over 200,000 blinks to finish the memoir over a 10-month period of time. Along with his thoughts and ruminations of life, he also described how he lived with this condition.
Recovering From the Accident
The first few chapters of the memoir set up the basis of the story, with Bauby in the hospital trying to come to grips with the new limitations of his condition. He explains how he uses the French alphabet to translate his memoirs as well as the rituals of his daily life, from baths to journeys in his wheelchair. The entrapment of the body, however, sets up the uplifting portions of the memoir, as his mind races to be free.
The Butterfly of the Mind
Between sections describing his new life in the hospital, Bauby also drifts occasionally into flights of fancy, proving that, while his body is broken, his mind is as strong as ever. He discusses his memories and dreams and allows his imagination to lead him to places his body would never allow him to visit again. He speaks of angels and prayers and, even when he mentions he is fading away, he always keeps hope and remains uplifted.
The Resolution
By the end of the memoir, Bauby talks about freedom and his hope that, one day, he would soon regain his life. That would never come to pass. In March 1997, only three days after the memoir hit book stores, Jean-Dominique Bauby died of pneumonia. Ten years later the world learned of his battles and uplifting story in the movie based on the novel. Bauby never recovered from his stroke but he left behind something that told his story and gave hope to others facing their own battles.
Photo Credits
Jupiterimages/liquidlibrary/Getty Images