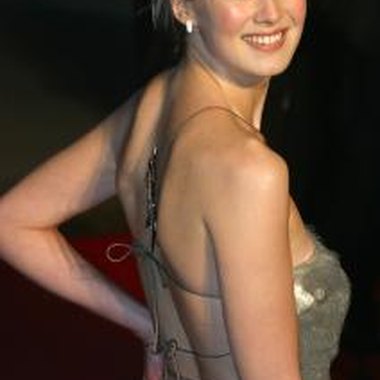 The "James Bond" movies are known just as much for the girls James encounters as for the character of James Bond himself. You can dress as a Bond girl by mastering the look and style typically used by the women in the films. Match stunning elegance with intriguing allure, and you have what it takes to be a memorable Bond girl for Halloween, whether it's trick-or-treating or a party.
Items you will need
Long dress

Stiletto heels

Small clutch purse

Diamond (or simulated) jewelry

Fake eyelashes

Lipstick or lip gloss
Step

1
Acquire a long elegant dress with a low-cut neckline, long slits in the sides that show off your legs and a low-cut back. Pick a dress with a solid color that's either black or red, or if you'd like to pay tribute to '70s Bond girls, you can choose gold.
Step

2
Acquire stiletto heels, especially ones that are very high. Red heels can work for a red dress, but if your dress is a different color, stick with black heels.
Step

3
Find a small clutch purse. The decorations should be shiny and make the purse sparkle, such as sequins or metallic details, but avoid glitter.
Step

4
Put on jewelry to add to your elegant Bond girl look. Choose diamonds or things that look like diamonds.
Step

5
Apply fake eyelashes to give yourself lush, vibrant Bond-girl eyelashes.
Step

6
Make your lips pink and pillowy by using lipstick and lip gloss.
Step

7
Drape a strand of your hair over one of your eyes, which adds allure and mystery to your Bond girl look.
Tips & Warnings
For an even more convincing Bond girl look, come to the party or other Halloween event with a male friend dressed as James Bond.
Resources
Photo Credits
Michael Crabtree/Getty Images Entertainment/Getty Images