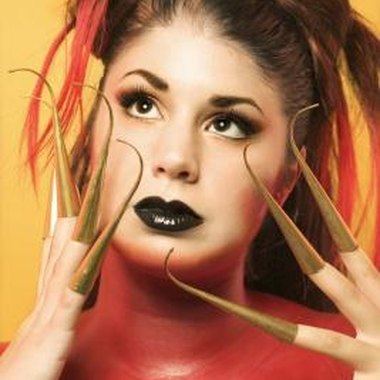 The annual Daegu International Body Painting Festival is a sight to behold. Hosted in Kolon Field Concert Hall in Duryu Park, Daegu, South Korea, the festival spans two days in August. Presenters and contestants from all over the world descend upon the city to dazzle audiences with elaborate and skillful body art in one of the largest body painting festivals in the world.
Presentation
Artists and models participating in the festival must prepare for proper presentation of their artwork. Each presentation can only last for three minutes, so models and artists must be ready to put on their best show in such a brief time. In those three minutes, the model can pose and display the artwork adorning his body, and the artist has one minute to explain the art to the jury. Artists must also provide a CD of the music to be played during the modeling portion of the presentation, and afterward, the models are photographed while waiting for jury decisions after all presentations are finished.
Competitions and Awards
Three major competitions are open to artists from across the world: The categories include Body Painting, Fantasy Make Up and Photogenic Model. Often for each festival, there is a theme that all artists should strive to adhere to, and for the 2011 festival the theme was "Paradise." For the body painting and makeup awards, all work must be completed the day of the festival. Winners receive trophies and cash prizes for their pieces; as of 2011, prizes ranged from $8,000 for first place in the body painting category to $3,000 for third. In the Fantasy Make Up category, prizes range from approximately $2,000 to $800 and $800 to $200 for Photogenic Model.
Entertainment
For festival-goers who seek even more entertainment than the feast of elaborate body artwork, the Daegu festival also provides a diverse array of performances. Acts such as belly dancers, magicians and musicians accompany a fireworks display and free face painting and nail art services. As visitors wander the park taking in these performances, tents and booths where the actual body painting for the competitions is occurring are also open and on display. Before seeing the models strut across the stage, visitors can watch the artists at work as they complete their masterpieces.
Exhibitions
The festival offers exhibitions for both cuisine and beauty. The food exhibition allows visitors to taste and experience a plethora of ethnic cuisines, but what may hold the most interest for festival attendees is the industrial exhibition for skin and hair care devices. The festival also has exhibits for both the city of Daegu and the festival's sponsors to promote their visions.
Photo Credits
Jupiterimages/Comstock/Getty Images