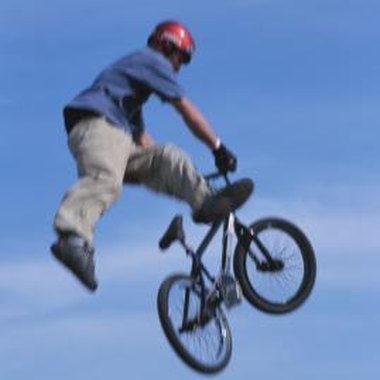 BMX trail riding is an extreme sport filled with inclines, declines and expressive obstacles. Terrains are usually designed with both speed and style in mind. Experienced trail riders typically prefer locations where lines allow them to gather momentum and perform tricks. California is home to some of the most popular and accessible obstacle-filled BMX trail sites in the country.
Sheep Hills
Sheep Hills is a Costa Mesa trail site rich in BMX history. In the early 1990s, Sheep Hills was considered one of the best trail spots in the world and helped professional dirt jumping gain popularity as an extreme sport. Professional riders Brian Foster, Todd Lyon and Shaun Butler all began honing their BMX skills as amateurs at Sheep Hills. Jumps and landings still exist today and are maintained by local BMX enthusiasts. All trails are open to the public and free to ride. Sheep Hills is located at the southern end of the Talbert Nature Preserve.
Hidden Valley Trails
The Hidden Valley Trails in Huntington Beach offer a wide assortment of expressive obstacles. Jumps and landings of various sizes are scattered throughout the terrain. Riders can also find banked berms on the trails, helping them turn into a new set of jumps without losing the momentum they gained from the previous set. The Hidden Valley Trails are located behind the shopping mall on Beach Blvd. and Adams Ave. in Huntington Beach's Bartlett Park. They are free of charge and maintained primarily by riders.
Downhill BMX Race Track
Fresno, California, is home to a popular trail site known as Downhill BMX. Downhill BMX is sanctioned by the National Bicycle League (NBL) and lays claim to one of the most technical trail tracks in the state. Technical tracks are designed for BMX riders who wish to combine speed with style. Sprint trails and pump tracks are also available on location. Downhill BMX is located on Friant Road in Fresno, California.
Boomtown BMX
Shasta Lake, California, is home to the Boomtown BMX trail track. It consists of several dirt jumps, wood ramps and park and freestyle obstacles. Additional attractions include a roll-in platform, various tabletops and an in-and-out satellite dish setup. Boomtown BMX's track typically hosts two-lap BMX endurance races. It can be found at Margaret Polk Park in Shasta Lake, California.
Photo Credits
Hemera Technologies/AbleStock.com/Getty Images