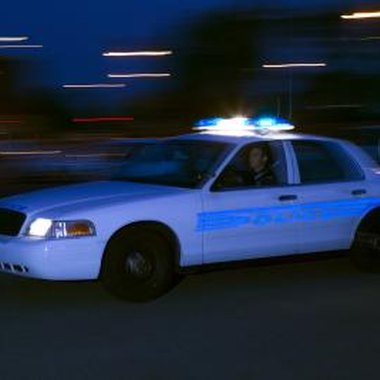 The 1980 box-office hit "The Blues Brothers" offers a variety of options for party themes. Your budget and the willingness of your guests to participate are the two major factors, so think through your guest list before making many decisions. If your guests are willing, a costume party, with or without assigned roles, can make for an unforgettable evening of laughter and good times. If not, simply decorate rooms to match different scenes from the movie and play themed games. Or, you can host a screening of the movie with themed food and decorations.
Costume Party with Assigned Roles
This is perhaps the most interactive party option, because guests remain in character throughout the evening, leading to memorable interactions between "enemies." Consider team games in which the brothers and the band compete against law enforcement, or recreate scenes with props and video the characters in action. Hold a trivia contest with questions about the movie and have teams attempt to gain 5,000 points to "pay the taxes."
Costume Party -- No Assigned Roles
This works well for an informal, buffet-style party or a birthday party. Hold a contest for the best costume in each category (brother, band member, clergy, law enforcement, concert audience member, etc.) and offer a prize that matches the category. If you have time, create a board game or a trivia game with scenes from the movie and have a "nun" maintain order during the game as if the guests were in her classroom. For hardcore gamers, locate the Blues Brothers video games and hold a tournament.
Scene Rooms
Select a location in which guests can move from one scene to the next. Decorate one room as Elwood's apartment, one as the high-class restaurant, one as Bob's Country Bunker and one as the Blues Brothers' concert venue. For a birthday party or shower, have guests bring presents relevant to specific scenes and open the presents in the appropriate rooms. Write an alternate ending as a surprise and select guests in advance to enact the final scene.
Screening
This is the simplest party to organize. Decorate the viewing room with movie posters and film reel canisters to simulate a theater and use white or yellow Christmas-tree lighting to simulate the aisles. Offer popcorn, candy and soda and include printed tickets for guests to present when they arrive. Give the guests Blues Brothers-style sunglasses and harmonicas as take-home gifts and encourage them to boo and cheer during the movie.
Refreshments
The formality and time of day will affect your choices, but the quintessential Blues Brothers menu consists of "four fried chickens and a Coke," "dry white toast," orange whip and Cheez Whiz. However, barbecue and fries are good options for casual dining. Desserts can include police car-shaped cookies with blue and white icing, "Blues Brothers Brownies" or diner-style pie. Add in some good old-fashioned soul food, as well as crackers if you're serving Cheez Whiz.
Music
Because there are 27 primary songs in the movie and the plot is about a band, music is an important part of a Blues Brothers party. For scene rooms, play the songs in the movie scenes. The CD soundtracks might not contain all the songs, so read before purchasing. To add length, choose songs that represent characters and ask guests to name the character for each song. "Jailhouse Rock" is a good choice for Jake, while "Achy Breaky Heart" is perfect for the jilted girlfriend.
Photo Credits
Thinkstock Images/Comstock/Getty Images