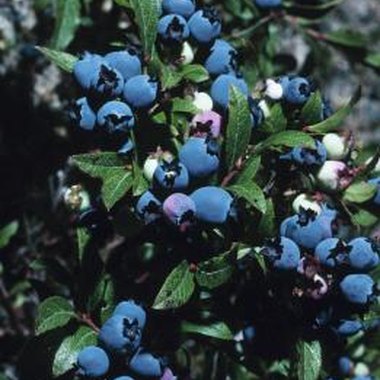 Picking your own blueberries in the fertile lands of southwest Michigan ensures that you're getting the freshest and most flavorful berries. Blueberries are one of the highest sources of antioxidants among all fruits and vegetables, and they have been shown in recent research to improve memory and slow down aging. According to Malinda Geisler of the Agricultural Marketing Resource Center of Iowa State University, Michigan is the leading U.S. producer of high-bush blueberries. If you pick too many blueberries to eat at once, you can freeze them without their losing their antioxidant properties.
DeGrandchamp Farms, South Haven
The DeGrandchamp Farms (degrandchamp.ipower.com) began with a 12-acre farm and has expanded to 130 acres of blueberries, as well as 30 acres of cranberries and raspberries. Open from 8 a.m. to 6 p.m. daily in July and August, this 56-year family-run farm offers picnic tables, restrooms and bus/camper parking for visitors.
Lehman's Orchard, Niles
Lehman's Orchard (lehmansorchard.com), a family-operated farm since 1929, opens around the third week of July for blueberry picking, but visitors should call before they go. Lehman's uses integrated pest management principles, which reduces the insect spray required on bushes. The farm also has 40 acres of tart cherries and sells dried fruit, honey and nut butters. Lehman's winery sells its own blueberry, cherry, apple and peach wine, as well as apple blueberry, apple raspberry and apple cherry hard cider. The farm is open Monday to Saturday from 8 a.m. to 4 p.m. and Sunday from noon to 4 p.m.
Stover's Farm Market, Berrien Springs
The Stover family has been operating the Stover's Farm Market (stoversupic.com) since 1878. It offers pick-your-own blueberries in July and August. The farm is open from 9 a.m. to 6 p.m. Monday to Saturday and is closed on Sunday. Blueberry pickers are provided with free containers and can tour the farm's 165-year-old bank barn. Stover's also sells its own jams, apple, cherry or pumpkin butter, pickles, salsa, dried fruit, dressings and raw or heated honey.
Jones Berry Farm, Bridgman
Offering over six varieties of blueberries, including Blue Crop and Jersey, the Jones Berry Farm (jonesberryfarm.com) blueberries are available for picking until early to mid-August, depending on seasonal factors. The farm provides buckets for picking and plastic bags to carry blueberries home, or charges a small fee for boxes. Open Thursday to Saturday from 9 a.m. to 6 p.m. and Sunday from 10 a.m. to 4 p.m., the farm provides a picnic area and portable toilets.
Photo Credits
Hemera Technologies/AbleStock.com/Getty Images