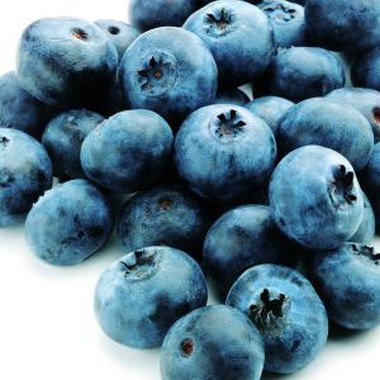 Mid-coast Maine provides the state's highbush blueberry crop. These varieties tend to ripen in mid to late July, and in the absence of frost are mostly available until October. Most farms on Maine's mid-coast -- including Sagadahoc, Waldo, Lincoln, Knox, York and Cumberland counties -- also produce and market apples and apple products. Some area farms and orchards benefit from a large blueberry harvest as well, and during the summer and autumn months make their bounty available to the public.
Crabtree Farm
The Crabtree Farm in the mid-coast town of Sebago invites visitors to pick their own blueberries from mid-July through early October from 600 highbush plants sown in 1998. Cumberland county blueberry varieties include Jersey blueberries, Little Giants, Berkeley berries, Blue Crops, Blue Golds and Elliotts. The farm is open to the public Tuesday, Thursday, Saturday and Sunday from 10 a.m. to 2 p.m.
Libby and Son Farm
The Libby and Son farm is in Limerick and has more than 6,000 highbush blueberry plants. Depending on crop quality, picking begins in July or August and extends into October. York county varieties include the Blue Crop, Early Blue, Polaris, Elliott, Hannah's Choice, Jersey, Dukes, Patriots and Spartan. The farm keepers also make many derivatives from their blueberry crops such as coffee, donuts and honey. All of these are available for purchase as well.
Sewall Orchard
If you're on Maine's mid-coast late in the year, you may want to pick your berries from Waldo County's Sewall Orchard in Lincolnville. The orchard's mountainous elevation provides views of the Camden Hills State Park, Penobscot Bay, Acadia National Park, Megunticook Lake, Norton Pond, Knight Pond, Coleman Pond and Fisher Pond. Picking is available to the public from mid-August through November. Excluding the third weekend of September, the orchard is open Tuesday through Sunday from 9:30 a.m. to 3:30 p.m.
Pleasant Pond Orchard
Pleasant Pond Orchard in Sagadahoc County's town of Richmond makes its blueberry bushes open to public picking as soon as the fruit ripens in July. The orchard is open from Wednesday through Friday from 10 a.m. to 6 p.m. and on Saturday and Sunday from 10 a.m. to 5 p.m. An on-site shop also sells orchard grown apples, peaches, pears, raspberries, plums, blackberries, tomatoes, pickled beets and relish. Farm bees make honey that's also sold in the Pleasant Pond shop.
Photo Credits
Jupiterimages/liquidlibrary/Getty Images