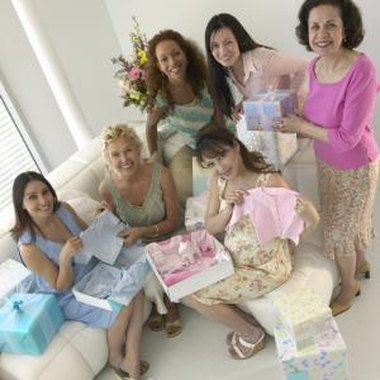 When the gender of an newborn is unknown or if an expectant mother is having boy-girl twins, a pink and blue baby shower color scheme appropriately adds to the event. Shape each facet of the shower around the pair of colors from the decor to the party favors, the food to the gifts.
Theme Ideas
Selecting a pink and blue color scheme for the planned baby shower promotes ideas for baby-themed characters to be the stars of the shower decor. Lighten the color of Eeyore to a pale blue instead of the charcoal gray and include pink Piglet in a Winnie the Pooh baby shower theme. Another idea is to use baby Mickey and Minnie Mouse from Disney wearing pink and blue sleepers for decorations.
Decorations and Invites
Alternate covering guest tables with baby blue gingham and pink gingham tablecloths or, when budgets are tight, use disposable plastic pink and blue tablecloths. Twist and hang pink and blue streamers adorned with pink and blue balloons. If choosing a character theme, adorn the tables and walls with plush animals and enlarged images. Use the Winnie the Pooh or Disney characters on the invitations fronts or for a more generic invite cut out pink and blue baby carriages or footprints for the card.
Party Favors
Paint the outsides of glass baby food jars with watered down glue and layer pink and blue tissue paper squares over the adhesive. Repaint over the paper using the glue mixture and allow it to dry as the base for party favors. Fill each jar with pink and blue jellybeans, dinner mints or candy-coated chocolates. Another idea is to use pink and blue baby bottles to hold the giveaways. Tie pink and blue curling ribbon onto the rim of each jar or bottle. If using a character theme, paste an image of the character over the tissue paper squares.
Food
Bake a two-tiered baby shower cake adorned with pink and blue fondant and the chosen characters in edible images, molded fondant or purchased plastic toys. For example, if choosing to use Eeyore and Piglet for the theme, use blue and pink fondant just like play dough to create the characters for the cake top. For other foodstuffs, tint fruit and vegetable dip with pink and blue food coloring and dip half of each peanut butter ball into melted candy chips in pink and blue. If possible, use pink and blue tinted chocolate in two, side-by-side chocolate fountains, allowing guests to dip pretzels, marshmallows and fruit into the chocolate.
Photo Credits
Barry Austin/Photodisc/Getty Images