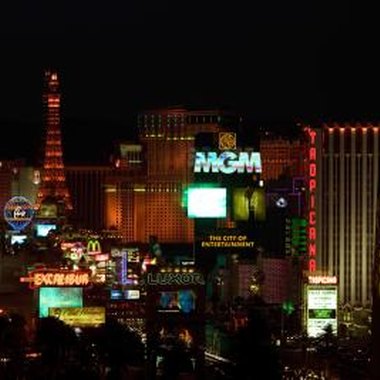 Block parties are a way for neighbors to gather and enjoy each other's company. A residential street or alley is closed to main traffic allowing the neighborhood to use the area for tables, food and entertainment. Two forms are required by the City of Las Vegas prior to having a block party. The two forms are the Block Party Neighbor Consent Form and the Right of Way Event Permit. The Right of Way Event Permit must be submitted to the city 60 days before you have your party if you will need a street closure. If you do not require a street closure, you must submit the form at least 14 days in advance of your party.
Step

1
Determine in which jurisdiction of Las Vegas Valley the block party is to be held. Contact the proper department for the Block Party Neighbor Consent Form and the Right of Way Event Permit. The jurisdictions include the City of Las Vegas (702-229-6276), Clark County (702-445-4126) and City of Henderson (702-267-4586). Other jurisdictions are Boulder City (702-293-9256), Mesquite (702-346-5295) and North Las Vegas (702-633-1520).
Step

2
Secure insurance with a $1,000,000 per occurrence general liability. Your insurance must also have a $2,000,000 aggregate, a $1,000,000 automobile liability with a combined single limit and a $1,000,000 employer's liability. You will need to sign a Waiver of Subrogation naming the City of Las Vegas, Las Vegas Metropolitan Police Department, 400 Stewart Ave., Las Vegas, NV 89101 as an additional insured. Phone your local insurance agent to secure the proper insurance. Liability insurance ranges in price from $50 to $250 for a one time occurrence depending on what company provides the insurance. The insurance will take 48 hours to one week to obtain.
Step

3
Fill out and complete both permits. Some of the information required on the forms includes the event date, the event location and description and the name of the organization holding the event. You will need to provide your address, email address and telephone number. You will need to include any relevant information about street closures, litter collection and whether there will be open fire or pyrotechnics at your block party. Return the completed forms and a copy of the insurance waiver to the jurisdiction office. The Block Party Neighbor Consent Form must include the addresses and signatures of everyone on your block who will be affected by any street closures. Fax the permit and insurance waiver to 702-382-0848 or email the information to Film-ROWEvents@LasVegasNevada.gov. Fees vary for Block Party Permits according to the Las Vegas jurisdiction.
Step

4
Contact Intermittent Traffic Control (ITC) at 702-828-3442 to make them aware of the event. ITC requires 14 calendar days of advance notice to provide appropriate staff for lane, road or alley closures.
Photo Credits
Thinkstock Images/Comstock/Getty Images