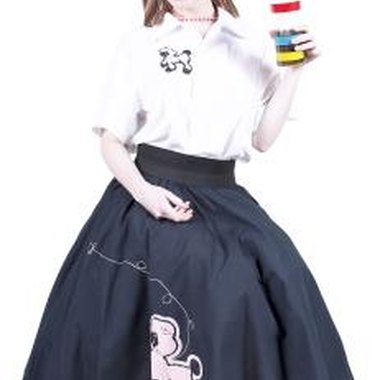 Everyone loves a party, and if you are planning on hosting one in your home, you might consider a themed party. Themed parties can revolved around certain decades, clothing, music and foods. For those requiring costumes, make sure to give your guests helpful hints when sending out invitations.
Sock Hop
Your guests will enjoy a blast from the past with a 1950s sock hop party. Request that guests wear an article of clothing from that era, such as cuffed jeans, a leather jacket, poodle skirts, or bobby socks and oxford shoes. For refreshments, you can serve hamburgers and french fries in vintage red plastic baskets, paired with Coke floats and milkshakes. To complete the nostalgic theme, consider playing the soundtrack to the movie "Grease," while guests dance the twist.
Hippie Style
If your party guests are Baby Boomers, a hippie-themed party could be a big hit. Suggest costumes such as bell-bottom pants, tie-dye shirts, headbands and long wigs. To capture the decor of the '60s and '70s, use peace signs, happy faces and beads. You can turn the music up with hits such as "Maggie May," "Dancing Queen" and "My Sharona" and let your friends enjoy a step back into time.
Disco
No other music gained more popularity in the late '70s than disco, which was popular with nightclubs across the U.S. To re-create the theme in your home, dim the lighting, and hang a 'disco ball' made from a regular large sports ball covered with tin foil. Then turn the music up and let your guests dance to the disco tunes of The BeeGees, Kool and the Gang and Gloria Gaynor. For more disco flair, you can add a blacklight to the room and pass out plastic neon colored bracelets and necklaces.
Movie Time
If you are interested in throwing a calmer party without the loud music and dancing, you could consider a movie-themed part for a small group. For invitations, send out mock movie tickets to guests. You can choose a new release or a classic to show at the party. For snacks, serve buttered popcorn in retro-styled, red-and-white popcorn containers, along with boxed movie theater candy such as Junior Mints, Milk Duds and Whoppers. To make the event authentic, you can even have an intermission midway through the movie.
Photo Credits
Hemera Technologies/PhotoObjects.net/Getty Images