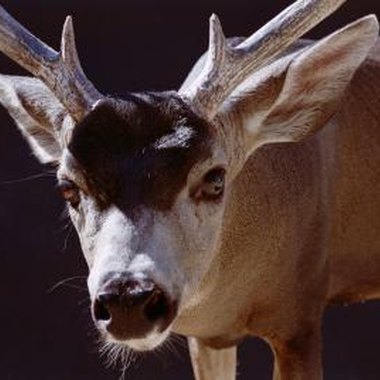 Archery is challenging for hunters of the elusive black-tailed deer of California. Because of conservation purposes, quotas and seasons change from year to year and differ in Zones A and C. The 2011 archery deer season is from July 9 through July 31 in Zone A, which covers the majority of California. Applications must be in before archery season. With an archery tag, only deer are hunted during archery season.
Preparation
A successful archer begins a month or two before the season. First, obtain a license. It is good to apply early because a tag quota is set each year. A little preseason scouting for black-tailed deer is also a good idea. Pattern a buck by watching where he beds, which trails he uses and/or where he goes for water. Organizing, collecting and readying gear -- such as clothing, bows, arrows and sights -- allows time to repair or purchase any necessary items needed for opening day.
Black-tailed Hunting Techniques
The terrain in California consists of rolling hills, open fields, thick forests, canyons and scrub brush. Black-tailed deer often use rocky ground or broken surface areas primarily as trails. Bucks rarely move during daylight hours, but rather under the cover of darkness. Making drives through thick cover is an effective hunting method. Find a clear vantage point before sunrise. By waiting for the bucks to move from one shaded area to another, black tails are visible. Also, rattling antlers entices other bucks that are rutting to come in for a closer look.
Licensing and Tagging
According to the California Department of Fish and Game, residents and nonresidents who are 12 years or older must purchase one first-deer tag to hunt. A second-deer tag, which allows for an additional kill, is optional. Tags are nontransferable. However, they are refundable if the season has not yet opened. A group of up to six hunters may apply as a party. Anyone killing and taking a deer must have a Department of Fish and Game officer validate the kill report card portion of an archery tag, which is then submitted to the state.
Guided Hunting Parties
Archers from out of state take advantage of California's many guided hunting tours. Most take place on private land. Costs vary, but most include lodging, transportation and meals. Professional guides already scout the known habitats of the black-tailed deer before the season starts. Guests bring their own gear and a hearty appetite for a trophy buck.
Photo Credits
Ryan McVay/Digital Vision/Getty Images