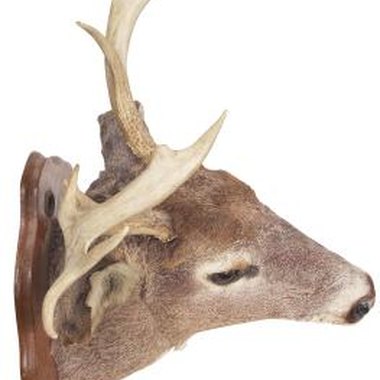 Blackhawk is a hunting outfit headquartered in Vidalia in northern Louisiana near the Mississippi River. Blackhawk boasts an abundance of large whitetail deer and offers guided hunts in their private hunting tract in the wetlands and forests. Bow hunting season in Louisiana runs from October 1 through January 31, and rifle hunting starts a month later on November 1 for the same end date. Wild boar and alligator hunting is also an option at Blackhawk, and hunters are encouraged to cast a line in the river at the end of the day to fish for largemouth bass.
Superbuck Hunt
Blackhawk offers a choice of two hunting packages. The "Superbuck" hunt is a one-on-one guided hunt -- one guide for each person -- and the package price includes transportation from Concordia Parish Airport, plus meals and accommodation, the guide and harvest fee, and preparation for taxidermy. The Blackhawk plantation is equipped with ladder stands and ground blinds plus enclosed stands for bad weather.
Trophy Hunt
The Trophy hunt package is less expensive than the Superbuck. This hung includes four days of hunting with meals and accommodations, but price does not include a one-on-one guide. The gratuities for the group's guides and chef, the harvest fee, and the cost of preparation for taxidermy are additional. Participants in either hunt must purchase their own five-day Louisiana hunting license, available online at the Louisiana Department of Wildlife and Fisheries.
Other Blackhawk Options
Blackhawk caters to the needs of young and old, experienced and inexperienced hunters and is committed to creating a good experience for all its guests. Though deer hunting is the major attraction, other hunt options include excursions for wild boar and alligator, and skeet shooting. Guests are invited to fish for largemouth bass at the end of the day when they return from the hunt. Blackhawk gear and souvenirs are sold at the store in the lodge and online. Look for logo shirts and sweaters, and Blackhawk mugs and collectibles.
Accommodations and Meals
Each hunter at Blackhawk is given a private cabin with cable TV, wireless Internet access and a microwave. Authentic Southern meals are provided at the lodge, and you can look forward to shrimp jambalaya and venison burgers. Hunters are invited to gather around the fire for drinks after dinner.
Photo Credits
Hemera Technologies/PhotoObjects.net/Getty Images