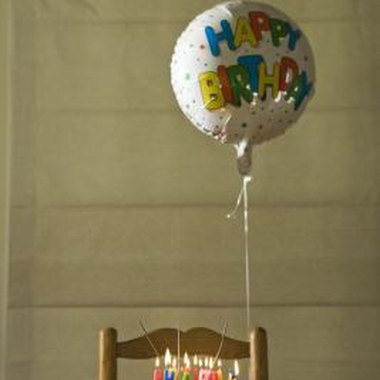 Southeastern Connecticut offers many things to do for your birthday. Kids and adults can enjoy scenic tours by train through the countryside and see the Beluga whales of Mystic. Adults can enjoy wine tastings in one of several wineries in the southeastern part of the state. Casinos provide spa treatments, shopping and gaming opportunities.
Essex Steam train and Riverboat
The Essex Steam Train and Riverboat (essexsteamtrain.com) offers dinner rides, including a dinner-theater show in the dinner car. Dinner-theater rides feature a mystery presented by Riverway Studio. Other events include a guest-engineer program, a day out with Thomas, a circus train and a caboose weekend. The train ride breaks for a one-hour-and-15-minute riverboat ride on the Becky Thatcher. The riverboat tours the Connecticut river before returning to the train.
Mystic Aquarium
The Mystic Aquarium (mysticaquarium.org) has the only Beluga whales in New England. Jellyfish, African penguins and California sea lions are all available for viewing at the aquarium. The 3-D animal adventure allows riders to experience the world through the eyes of the animals. See the sharks eat on Tuesdays, Thursdays and Saturdays at 1 p.m. Watch the stingrays eat daily at 9:30 a.m. to 11 30 a.m., noon to 1:30 p.m., and 2 p.m. to 6 p.m.
Wineries
Take a tour of the Chamard Vineyards (chamard.com) in Clinton. Chamard produces chardonnay, cabernet sauvignon, merlot, pinot noir, cabernet franc and Gewürtraminer among other wine varieties. Birthday activities at the winery include wine tasting and tours of the winery. Wine tastings are conducted Tuesdays through Sundays from 11 a.m. to 5 p.m. Tours of the winery are given on Saturdays and Sundays at 1 p.m. Heritage Trail Winery and Cafe (heritagetrail.com) in Lisbon offers a lunch menu for wine pairings on a 70-acre farm that once belonged to Separatist John Palmer. The cafe is open Tuesday through Saturday from 11 a.m. to 8 p.m. and Sundays 11 a.m. to 6 p.m. Heritage Trail Winery and Cafe can be reserved for events such as a birthday party.
Casinos
Mohegan Sun (mohegansun.com) in Uncasville offers four different playing venues. Casino of the Wind features poker as its main game along with slot machines. Casino of the Earth has more than 3,000 slot machines and 200 table games. Casino of the Sky features a planetarium in addition to its gaming options. Sunrise Square features Asian marketplace games such as pai gow poker and mini baccarat. Mohegan sun also offers spa, hotel and shopping as part of its total entertainment experience. Foxwoods Casinos (foxwoods.com) in Mashantucket offers gaming options in bingo, keno, poker, and greyhound race betting. Visitors to Foxwoods can enjoy spa treatments, shopping and golfing.
Photo Credits
Jupiterimages/BananaStock/Getty Images